Check your cupboards!  A large numer of goldfish crackers are being recalled.  Pepperidge Farm has been notified by one of its ingredient suppliers that whey powder in a seasoning that is applied to four varieties of crackers has been the subject of a recall by the whey powder manufacturer due to the potential presence of Salmonella.  The brand initiated an investigation and, out of an abundance of caution, is voluntarily recalling four varieties of Goldfish crackers. No illnesses have been reported. No other Pepperidge Farm products in the U.S. are subject to this recall.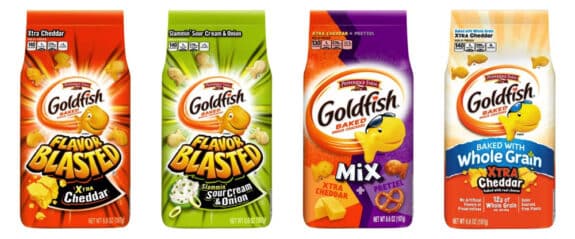 The following four varieties with the indicated codes are subject to this recall:
Flavor Blasted® Xtra Cheddar
Flavor Blasted® Sour Cream & Onion
Goldfish® Baked with Whole Grain Xtra Cheddar
Goldfish® Mix Xtra Cheddar + Pretzel
Different packaging options are included in this recall.  Please check the chart located here for more information on all of the different options.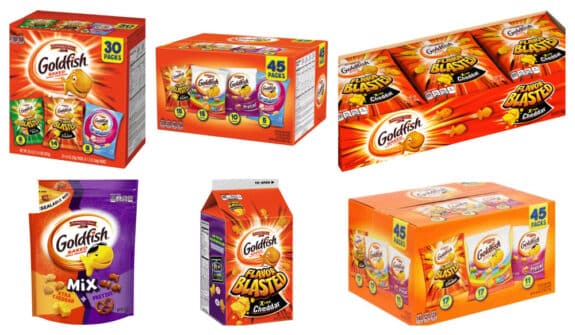 In Canada the CFIA is verifying that industry is removing recalled product from the marketplace.
Affected products
Affected products
Brand name
Common name
Size
Code(s) on product
UPC
Pepperidge Farm
Goldfish Flavour Blasted Xtreme Cheddar Crackers

180 g

20/JAN/19


24/JAN/19
31/JAN/19
2/FEB/19
11/FEB/19
18/FEB/19

0 14100 08406 8

Pepperidge Farm
Goldfish Flavour Blasted Xtreme Cheddar Crackers

69 g

25/JAN/19


26/JAN/19

0 14100 23245 2
Consumers who have purchased these products should not eat them. The recalled product should be discarded or may be returned to the place of purchase for a full refund.
You may also click here for reimbursement if you have the product, sell by date and package code listed in the chart provided.
Consumers with questions may call Customer Service at 800-679-1791, 24 hours a day, for more information. Our Customer Service specialists are available M – F 9AM – 7PM EST.