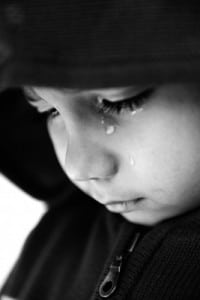 Physical punishment has been around since before we were children. You even hear supporters of it touting how they were "better" for having received spankings and other forms of physical punishment. However, a recent study has indicated that physical punishment may actually increase the odds that a child will develop mental health issues in adulthood.
Previous studies have found links to physical punishment to aggression in children, delinquency and emotional, developmental and behavioral impairment. But those studies also included those that had suffered from more severe forms of abuse, like severe physical abuse, neglect, mistreatment and sexual abuse. This study is the first to examine the effects of corporal punishment on mental health alone.
In this study, researchers from Canada used data from 2004-2005 on nearly 34,000 individuals aged 20 or older. The information was pulled from the U.S. National Epidemiologic Survey on Alcohol and Related Conditions. All participants were interviewed face to face and were asked, on a scale from "never" to "very often," if they were pushed, grabbed, hit, shoved or slapped by their parents or other caregivers in their home.
Those that reported "sometimes" or greater were considered to have experienced harsh physical punishment. Researchers then accounted for socio-demographical factors as well as histories of dysfunction. After compiling the data, researchers reported that about six percent of all participants were said to have suffered from harsh physical punishment. Boys, blacks and those from higher educated, more affluent families were the most likely to report this type of abuse.
"We're not talking about just a tap on the bum," said study author Tracie Afifi, an assistant professor in the department of community health sciences at the University of Manitoba in Winnipeg. "We're looking at people who used physical punishment as a regular means to discipline their children."
In the end, researchers connected about 7 percent of a range of mental health disorders could be associated with physical punishment, including major depression, post-traumatic stress disorder, social phobia, panic disorder, agoraphobia, severe personality disorders and alcohol or drug abuse.
However, the study cannot truly prove a cause and effect; it merely points out a potential link between mental health issues and physical punishment. However, researchers on the study say that the information should send a very clear message to the public: physical punishment is not an effective or healthy method of discipline.
"What's really important is to know that spanking and other forms of physical punishment come at a cost," Afifi stated. "Physical punishment should not be used on children at any age under any circumstances."
Dr. Andrew Adesman, chief of developmental and behavioral pediatrics at Steven and Alexandra Cohen Children's Medical Center in New Hyde Park, N.Y., who did not participate in the study, also pointed this fact out in his statement.
"While it's a well-done study, looking at a national data sample, there are limitations in the way the study was done," Adesman said. "There are limitations to relying on adults recalling childhood experiences, and it's hard to control for familial psychopathology."
Still, Adesman says that the study does reinforce that there are definitely reasons that physical punishment should not be used. And he believes that the public needs more education on the dangers of physical punishment as well as help in finding alternative methods of discipline.
"There's a general presumption that parenting comes naturally, but there are things people need to learn," Adesman said. "We have PSAs (public service announcements) about all kinds of health issues, but I've yet to hear any tips for providing non-physical punishment to children."
Physical punishment is prohibited in 32 countries. However, the practice is still considered "legal" in the United States and Canada. While the American Academy of Pediatrics strongly advises parents against physical punishment, it seems that approximately 80 percent of preschool children in the United States are spanked, according to a 2010 study by the University of North Carolina.
We personally strive for Love and Logic. It does not work as effectively with all of our children (namely our son that is autistic) but it is a method that has helped us better enjoy our children and ourselves as parents.
Related Articles:
SOURCE
Image credit: zurijeta / 123RF Stock Photo
---
[ad]