Sandra Bullock and Camilla Alves McConaughey were spotted taking their kids out for the day at Audubon Zoo in New Orleans on Tuesday.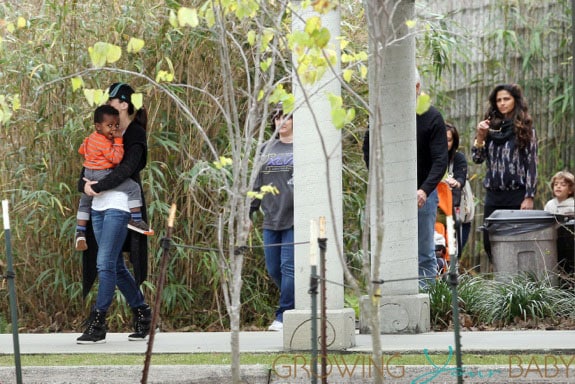 The McConaugheys are in New Orleans while Matthew shoots the HBO series, True Detective.  This will be the second project the actor has done in the Big Easy in the last few months.  Back in November, when he filmed Dallas Buyers Club, Sandra and a then pregnant Camila enjoyed some time together watching a marching band practice and then at City Park Storyland.
Sandra showed her love for the Ravens, while carrying Louis.  The actress' support for the team runs deeper than just the SuperBowl.  In 2010 she won an Oscar for her role as Leigh Anne Tuohys, the adoptive mom of Baltimore Ravens player Michael Oher, whose real-life story inspired The Blind Side, a book-turned-movie. Sandra and Louis sat in the stands on Sunday with Oher's adoptive family, the Tuohys, and cheered his team to victory.
During the outing Vida rode in Joovy's Caboose Ultralight stroller pushed by her nanny, while Levi stayed close to his mom.  The family's newest addition, Livingston, didn't join the crew for their outing.
---