For the second time actress Monica Bellucci has showed off her growing bump on the cover of Vanity Fair.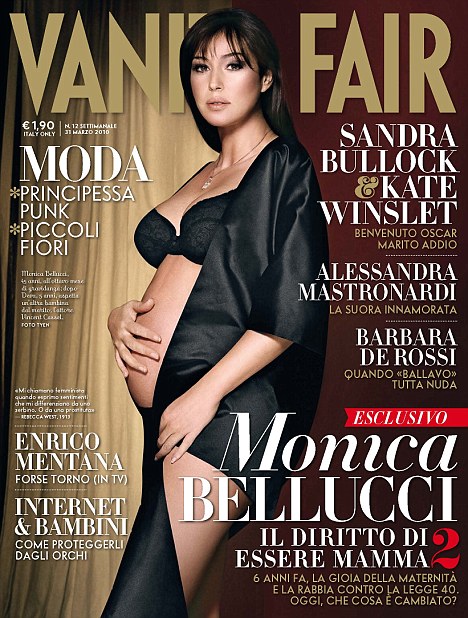 Now six months pregnant, Monica told the Italian edition of Vanity Fair that she decided to reveal all again to show that being a middle-aged mum is not a problem.
'When I had my first child (Deva) at 39 I was told that if I wanted another I should try straight away but I wasn't ready.'

'Eventually I decided that I was and I wanted one straight away but babies are not like movies and cannot be organised in a hurry.'

'Women who have children late like me are always told how brave they are and it's true that the older you are the more risks you run both for the child and yourself.'

'But I don't feel brave I just feel very lucky. I already have a healthy daughter who I gave birth to in Umbria (Italian region) like an ordinary farm wife.'

'This second pregnancy is just as fantastic but I wouldn't say I was an example to follow.'
Baring your bump seems to the the thing to do now for celebrities, with Demi starting the trend on the cover of Vanity Fair in 1991 while seven months pregnant with her daughter Scout LaRue.
---
Related Articles: