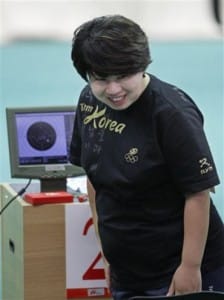 Gim Yun-mi, a seven months pregnant Olympic shooter from Gyeongju, South Korea revealed to the press that her unborn baby and a last minute phone call from her husband are what helped her achieve her second gold medal at the Asian Games in Guangzhou, China.
Over the weekend the mom-to-be won the women's 10-meter air pistol and helped South Korea win the women's team gold.
Afterwards she was reported saying that her unborn child is what gave her that extra push through pre-competition jitters, allowing her to focus on the event at hand.
"I think my baby helped me stay calm and relaxed. I am so happy that we won the gold together".
Upon discovering she was pregnant, Gim, was not going to compete in the Asian games and instead focus her energy on training for the 2012 London Olympics. However, after she posted exceptional results at the nationals and with some encouragement from her new husband, Jim Chul-gyu, she decided to participate.
Now that Gim has won two gold medals the only thing that she wants to do now is go back home and celebrate by seeing her husband and eating Korean food. – Jeff, Staff Writer
Related Articles:
---
[ad]