Birth is a miracle and a life-changing process. It only makes sense that you want to choose to do it in a way that suits you and your family best.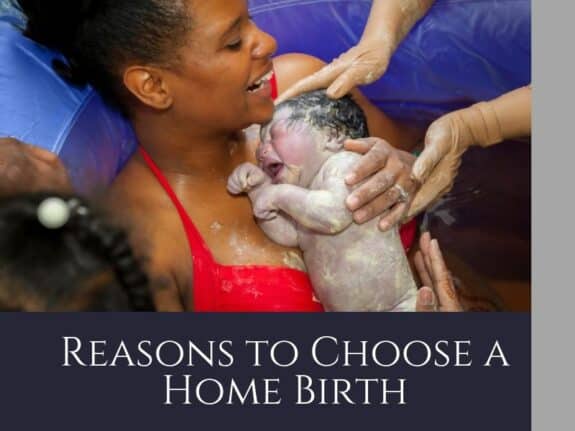 For some moms, that means delivering their baby with the safety and comfort of a well-trained hospital staff at their side. For others, it means delivering in the calm, welcoming environment of their own home with (or even without) the aid of a trained professional or family member.
Is home birth right for you?
These 8 reasons for choosing a home birth could help you in making that important and monumental decision.
You're Expected to Have a Non-Complicated Delivery
It should be noted that there are certain situations in which a home birth should not occur. Complicated pregnancy, including the birth of multiples, are on that list. However, as long as you're expected to have a non-complicated delivery and do not have any major health problems, there should be no reason that a home birth wouldn't be safe for you and your baby.
You Want Freedom and Control Over the Birthing Process
While you can create a birthing plan for the hospital, moms are still somewhat restricted by hospital policies and protocol. A home birth allows you to have complete control and freedom over the birthing process.
You Prefer Not to Have to Explain Your Birthing Plan on the Fly
Even if your birthing plan contains only minimal accommodations (i.e. no drugs, no medical interventions unless absolutely necessary, and ability to nurse immediately after birth), you'll still have to ensure that the staff knows it ahead of time. In some cases, that may mean conveying the plan on the fly – either verbally or through a written plan. Either way, it's possible that a step will get missed. No worries over this issue when you choose a home birth instead.
You Want Complete Confidence in the Person Performing the Delivery
No matter how much you prep and plan for a hospital birth, you can't guarantee that your ob-gyn will be present during your birth. You'll also have a host of hospital staff present, which you have no real choice over. It's like a lottery pick. Home birth allows you to choose one or two professionals to be there by your side – a midwife, doula, or birth coach (or any combination of the three).
You Want to Give Birth "All Natural"
If you already know you want to go through labor without drugs or medical interventions, a home birth may be the best choice. Remember, you can still trek to the hospital if things start to look a bit hairy during the birth.
You Want to Share the Birthing Experience with Your Family and Loved Ones
There's only so much room in a hospital birthing room, and some hospitals have restrictions on the number and type of people who can be present. Some restrict children. Others may restrict the birth room to immediate family members only. Share the birth experience with whomever you want through a home birth.
You Prefer the Calm and Relaxing Environment of Your Own Home
No matter how hard you try to make a hospital room calm and inviting, it'll never compare to the safety and comfort you feel at home. For some, that essence is downright critical to the birthing experience. It is one of the reasons home births have become so widely popular over the last several years.
You Want to Incorporate Other Natural Practices Into Your Birth
Natural birthing plans don't always go over well in hospitals. Your placenta may be tossed out, even despite your requests to have it preserved. Baby may be whisked away into a warmer or nursery, despite you requesting to have them on your chest, the second they're born. And doctors rarely leave the cord attached for longer than a few minutes. If you have plans for other natural practices during your birth, a home birth may be your best bet to making sure they happen.