Little Tikes is recalling about 1.6 million workshop sets and toy trucks. The recalled toys have oversized, plastic toy nails that can pose a choking hazard to young children.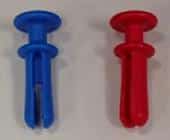 The firm has received one report of an 11-month old boy from Goose Creek, S.C. who choked when the toy nail become forcefully lodged in his throat. The child was hospitalized and made a full recovery.
The oversized, plastic toy nail is about 3 ¼ inches long by 1 ¼ inch in diameter and comes in red or blue colors. It has a large round head; about 1 ¼ inches below the head is a plastic ridge, slightly smaller than the nail head and about 1 inch in diameter. They were sold with a variety of Little Tikes Children's products. The names, model numbers and UPC code of the products included in this recall are listed below:
Model #
Name
Picture
0914
Electronic Project Workshop
SOLD FROM MARCH 1994 THROUGH DEC 2003
UPC: 0-50743-00914-3
0920/612237
Little HandiWorker Workhorse
SOLD FROM MARCH 1999 THROUGH JUNE 2009
UPC 0-50743-10920-1
UPC 0-50743-61223-7
4146
Home Improvements 2-Sided Workshop
SOLD FROM FEBRUARY 2001 THROUGH JANUARY 2009
UPC 0-50743-04146-4
440Z
Swirlin' Sawdust Workshop
SOLD FROM APRIL 2004 THROUGH NOVEMBER 2008
UPC 0-50743-38540-7
4028
Black Pickup Truck with Tools
SOLD FROM MARCH 2000 THROUGH APRIL 2009
UPC 0-50743-04028-3
Consumers should immediately take the toy nails away from young children and contact the firm for a free replacement toy nail.
For additional information, contact Little Tikes at (800) 791-2737 between 9 a.m. and 8 p.m. ET Monday through Friday, between 9 a.m. and 2 p.m. ET Saturday, or visit the firm's Web site at www.littletikes.com
---
[ad]