The CPSC, along with Jakks Pacific Inc., of Santa Monica, Calif., today announced the recall of about 162,300 MorfBoard Skate & Scoot Combo scooters with "Y" handlebars because the "Y" handlebar joint on the scooter can break, posing a fall hazard.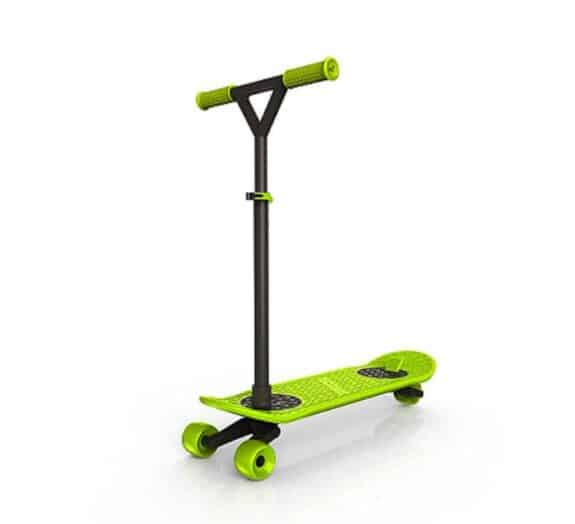 The company has received 18 reports of the "Y" handlebars breaking with one injury when a child fell resulting in a bloody nose.
This recall involves Morfboard Skate & Scoot Combo scooters with "Y" handlebars. The skateboard system has interchangeable parts that convert into a scooter. The scooter is created by inserting the "Y" handlebar into the baseboard. The scooters were sold in a variety of colors, including cyan (blue), chartreuse (yellow), lava (red), and mint (green). An 8-character alphanumeric manufacturing date code is located on the bottom side of each skate deck that is sold as part of the Skate & Scoot Combo. Only scooters with the following manufacturing date codes are included in the recall: 0049VE01, 0128VE01, 0238VE01, 0328VE01, 0598VE01, 0718VE01, 0878VE01, 1068VE01, 1168VE01, 1278VE01, 1458VE01, 1508VE01,1598VE01, 1858VE01, 2068VE01, 2328VE01, 2398VE01, 2478VE01, 2548VE01, 2508VE01, 2568VE01, 2958VE01, 3198VE01, 3258VE01, 3537VE01, 3628VE01.
Consumers should immediately take these recalled scooters with the "Y" handlebars away from children and contact Jakks Pacific online at www.jakks.com and click on "Safety Notices" at the bottom of the page or toll-free at 855-602-5464 from 9 a.m. to 4 p.m. PT Monday through Friday for more information to receive a free replacement "T" handlebar.