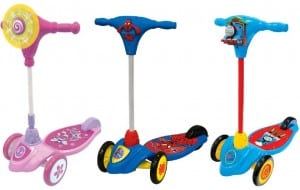 The U.S. Consumer Product Safety Commission and Health Canada, in cooperation with Kiddieland Toys, today announced a voluntary recall of about 16,700 Lights and Sounds Children's Scooters because a child's finger can get caught in the hinge mechanism between the steering column and the platform, posing a laceration hazard.
CPSC and Kiddieland have received two reports of children whose fingers got caught in the hinge mechanism and required stitches.
This recall involves three models of Kiddieland "Lights and Sounds" three-wheeled scooters including a red Spiderman, a blue Thomas & Friends™ and a pink girl's scooter. The scooters have buttons on the handle that play music and sounds. "Kiddieland" is molded on the back of the steering mechanism. Spiderman or Thomas & Friends™ are found on the steering mechanism and platform. The girl's model has butterflies on the platform.
Consumers should immediately take the recalled scooters away from children and contact Kiddieland toll-free at (800) 430-5307 or visit the firm's website at www.kiddieland.com.hk for a free repair kit.
---