The National Highway Traffic Safety Administration (NHTSA) in cooperation with Transport Canada and Dorel Juvenile Group announced a recall involving certain Maxi-Cosi Mico infant child restraint systems manufactured by Dorel Juvenile Group (DJG).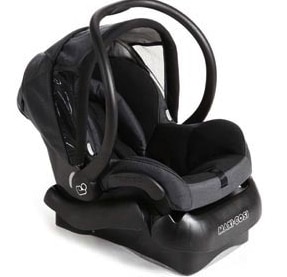 Dorel is recalling 22,850 of the restraint systems because of attachment difficulties between the infant carrier and the base. If the carrier is improperly mounted to the base, the child could be injured in the event of a crash.
The affected child restraints produced from February 18, 2008, through June 28, 2008, are models 22-371 HFL, JUC, LMD, PNG, and ORE; 22-372 TTH; and Maxi-Cosi Mico Infant Child Restraint System – Base Only, model 22-515 BLK. The model number and the manufacture date are located on a label on the side of the car seat/carrier.
Dorel will notify all registered owners and will send a free remedy kit. Parents may continue to use the child restraint system as directed in their instruction manual. Until the repair kit is installed, parents should make sure that the child restraint is firmly attached to the base by pulling up on the seat while the two are attached. The base release handle should move back to its original position indicating the seat is secured. Owners may contact Dorel at 1-877- 657-9546 or visit their website at www.djgusa.com.