The U.S. Consumer Product Safety Commission, in cooperation with Angel Line, today announced a voluntary recall of about 3,400 Drop-Side Cribs because the crib's drop-side rail hardware can malfunction, detach or otherwise fail, causing part of the drop-side rail to detach from the crib. When the drop-side rail partially detaches, it creates a space between the drop side and the crib mattress. An infant or toddler's body can become entrapped in the space, which can lead to strangulation and/or suffocation. A child can also fall out of the crib. Drop-side incidents also can occur due to age-related wear and tear.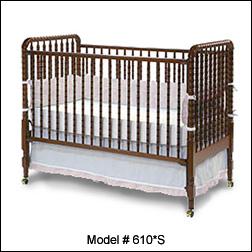 CPSC is aware of one incident in which the crib's drop side detached. No injuries have been reported.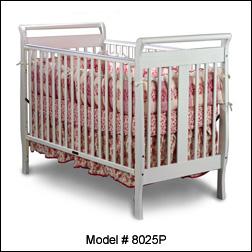 This recall involves the following models of Longwood Forest drop-side cribs with plastic drop-side hardware: 6103S, 6105S, 6106S, 6108S, 6109S, 8025P, and 8029P. They were sold in white, brown, natural and oak colors. "Longwood Forest" or "Angel Line" and the model number are printed on a label on the crib's headboard. The firm's fixed-side cribs and drop-side cribs with metal rod-type hardware are not included in this recall.
Consumers should immediately stop using the recalled cribs and contact Angel Line at (800) 889-8158 anytime, visit the firm's website at visit www.angelline.com or email the firm at parts@angelline.com to receive for a free repair kit that will immobilize the drop-side rail. In the meantime, parents are urged to find an alternate, safe sleeping environment for the child, such as a bassinet, play yard or toddler bed depending on the child's age.
Related Articles: