The U.S. Consumer Product Safety Commission, in cooperation with Kid O Products, today announced a voluntary recall about 1,500 units wooden baby rattles. The baby rattle's beads can come off when the rattle is twisted or pulled forcefully, posing a choking hazard to young children.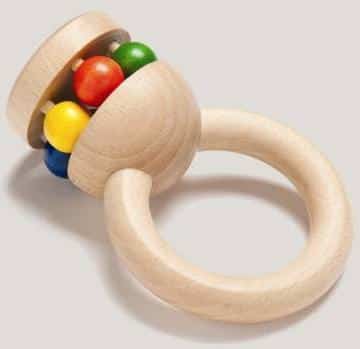 This recall involves the Prisma and Duo style wooden baby rattles with multi-colored beads. The Prisma rattle is shaped as a bell with a loop handle and has style number 10331. The rattle measures about 3 ¾- inches long. "Prisma" and the style number can be found on the packaging. The Duo rattle is two interlocked rings with red and blue bead accents. "Duo" and style number 10333 is printed on the packaging.
Consumers should immediately take the recalled rattles away from children and return them to the retail store where they purchased it for a full refund. Consumers can also contact Kid O Products collect at (212) 366-5858 between 9 a.m. and 5 p.m. ET Monday through Friday or visit the firm's website at www.kidoproducts.com for instructions on how to mail the product to receive a full refund.
---