A set twins were born naturally Tuesday, just seven minutes apart, tipping the scales at a combined seventeen pounds and one ounce.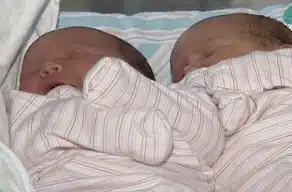 Cierra and Cheyann Ethridge were born Tuesday just seven minutes apart. Cierra is the oldest weighing in at 8 pounds, 6 ounces. Then came Cheyann at 8 pounds, 11 ounces."The smaller one came out first and they thought she's such a big baby, she must be the big one. Then, the big one got here and everybody was like oh, she's so huge," Etheridge said. "I think everybody was just shocked."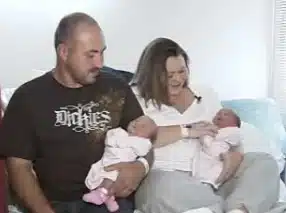 The Etheridge babies are the biggest twins ever born at Providence Hospital. According to hospital records, the next biggest babies were born more than twenty years ago.
"As far back as 1985 we found a pair that weighed a little more than 8 pounds (each), but not quite the weight of Cierra and Cheyann," said Cindy McMillan, a nurse who has helped deliver babies for 27 years.
The babies were born just five days shy of full term, which nurses say is very uncommon for twins, and the mother delivered the babies without a c-section.
The family expects to go home Thursday.
I have no idea how this mom didn't know her babies were so big. Just to give you an idea…these two babies weighed almost as much as the Masche sextuplets.
---