It has been a month since Brian and Gracie Soldani welcomed their 3 beautiful babies.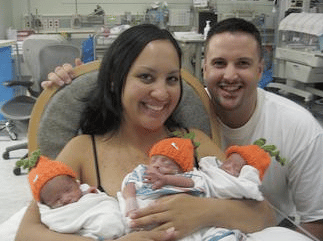 The couple was expecting sextuplets, but lost three babies just before their birth.
The remaining three babies have been in the NICU growing for the last month and Gracie reports on her blog that 2 are feeding by bottle, which is a big step towards them coming home.
We have celebrated our babies one month birthday, Bruno and Lucia are now on bottle/breast feedings, Santino had his last course of antibiotics and we are waiting see if he is in the clear.
At least one baby still appears to need some assistance with breathing and one is still in isolation being treated for a bacterial infection.
It is nice to hear that things are going well for this family after their tragic start.
Related Articles:
1st Byler Sextuplet Goes Home
Soldani Sextuplets' Arrival Bittersweet
Wilkinson Quintuplets Land The Cover Of Austin Magazine
Update: Remaining Morrison Sextuplet Doing Well
---
[ad]