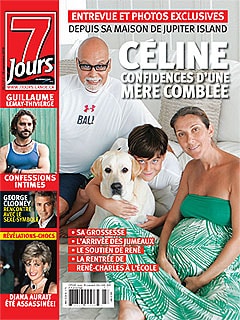 Céline Dion has been admitted to St Mary's Medical Centre in West Palm Beach, Florida as a precaution to prevent premature birth.
According to the singer's rep, she is under observation by doctors to ensure she is in close contact with the resources needed should she go into labor early, a common practice for mothers of twins.
The babies, 2 boys, were finally conceived earlier this year via in-vitro fertilization after seven failed attempts and a recent miscarriage.
Celine is at risk for preterm labor not only due to carrying multiple fetuses, but also because she conceived via in-vitro fertilization, has experienced a miscarriage, and is of advanced maternal age (over 35).
By our calculations, she should be between 34-35 weeks pregnant, which would make the twins approximately 4-5lbs each.
Hopefully she will be able to keep the babies in for a couple more weeks.
Related Articles:
---
[ad]