A new warning will soon be issued for a European-sold emergency contraceptive pill, Norlevo. According to manufacturers, the pill loses its effectiveness in women who weigh more than 165 pounds, and it's completely ineffective in women who weigh more than 176 pounds.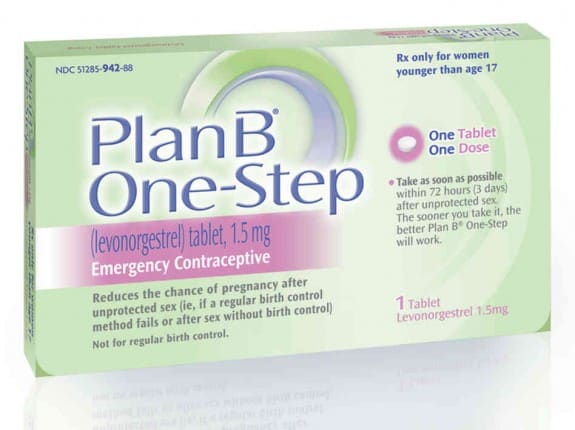 According to Mother Jones, HRA Pharma, the maker of the European-sold morning after pill, Norlevo, started investigating the need for a label change after Anna Glasier, a professor of obstetrics and gynecology of the University of Edinburgh, published a research paper on emergency contraceptive pills back in 2011. The paper indicated that levonorgestrel pills were prone to fail in women with a higher body mass index. Karina Gajek, a spokeswoman for HRA Pharma told Mother Jones in an email that by December 2012, the company had reviewed the data and requested permission from a European Union governing body to update their product information.
This new information will be presented to women via a leaflet warning within the Nerlevo packaging, come the first half of 2014. In part, it will read: "Studies suggest that Norlevo is less effective in women weighing [165 pounds] or more and not effective in women weighing [176 pounds] or more" and that Norlevo "is not recommended…if you weigh [165 pounds] or more."
But this isn't just an issue in the U.K.
Designed to prevent pregnancy if taken within hours of unprotected intercourse, all of the morning after pills sold in the United States (Plan B One-Step, My Way, Next Choice One Dose, and a number of generic two-pill emergency contraceptive pills) sold without a prescription have dosage and chemical makeup identical to the European drug. This means that U.S. women should also heed the warning. In fact, the Centers for Disease Control and Prevention's weight data suggests that, at 166 pounds, the American-sold emergency contraceptive pills lose their efficacy.
This is a pretty concerning problem since data for the years from 2007 to 2010 shows that the average American woman over the age of 20 weighs 166.2 pounds – greater than the weight of which these over-the-counter prescription pills start to lose their efficacy. And the average weight of non-Hispanic black women between the ages of 20 and 31 well exceeds the weight in which these pills are considered ineffective (186 pounds, on average).
These are the only emergency contraceptives available to women and minors without a prescription. Prescription-strength morning after contraceptives have side effects like nausea and vomiting, and some minors may be unwilling or unable to obtain emergency contraceptives that require a prescription. But the problem is even bigger when you take into account that the CDC says that about 5.8 million American women used the emergency contraceptive pill between 2006 and 2010; all things considered, it is likely that at least some of them were over the weight limit in which the pills are considered effective.
But what's interesting is that American manufacturers do not currently advise American customers on weight limits for levonorgestrel-based emergency contraceptive pills. What's more, generic sold morning-after pills are restricted by the Food and Drug Administration from changing their labeling information before the brand-name manufacturer does. Teva Pharmaceutical Industries, the makers of the Plan B One-Step, refused to comment for the Mother Jones article on emergency contraceptives, as did Gavis, the manufacturers of My Way (Plan B generic). The manufacturers of Next Choice One Dose (Activis) did not even respond when emailed by Mother Jones.
Reality is, without acknowledgement of the problem, it's unlikely that any company will even attempt to make changes to make the levonorgestrel-based emergency based contraceptives. But even if change does happen, and drug manufacturers in the United States do make the change, it's not clear as to whether or not an effective over-the-counter pill for women over 165 pounds can even be made.
"A dose increase in levonorgestrel is not proven to be a solution for this problem," Gajek, the HRA Pharma spokeswoman, told Mother Jones. "However, women with higher weight are advised to discuss alternative emergency contraceptive options with their physician: IUD or alternative oral emergency contraceptive."
Sadly, that is unlikely to be a helpful option for many American women. Some women (both adults and minors) struggle to pay for even oral contraceptives, let alone an IUD insertion, which can cost anywhere from $500 to $900. Additionally, these options do nothing to prevent pregnancy once intercourse takes place.
Related Articles:
---
[ad]