Check in with a lot of parents at the nine month marker, and many of them are in a sleep-deprived haze, teetering on the edge of insanity. Celeb dad Ryan Reynolds might be sleep-deprived, but his goofy grin isn't just the ear mark of sleep deprivation; he says he's thoroughly enjoying fatherhood, and he and wife Blake Lively are doing it all sans nanny!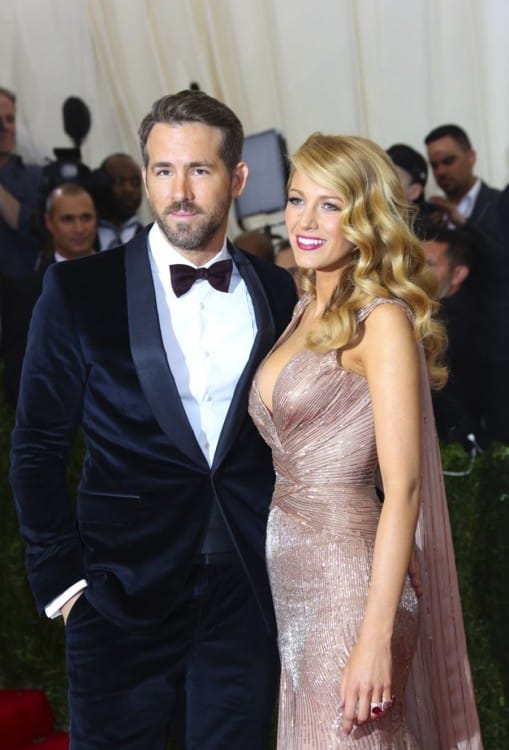 "I have no problem waking up five times in the middle of the night and changing diapers, and as exhausted as you get, I have this stupid grin on my face all the time," the 38-year-old Deadpool star told GQ Magazine in their October issue. "[It's] not because I have a nanny or something like that. It's just us right now, and I love it."
In fact, he loves parenting daughter James so much that it sounds like he may already be contemplating the idea of more children.
"I like it: I mean that in the heaviest context," Ryan told People, baby monitor on-hand during the entire interview. "I genuinely like it. I like being a father. I like having a daughter. I would like to have more kids. It seems to suit me pretty well."

The first-time dad attributes ease into parenthood to a mix of nature and nurture, with the difficult relationship he has with his own father being overshadowed by the examples set by his older brothers.
"I look at each one of my older brothers, and they're all fathers, and they're great fathers. So I had some good examples," he said. "But I don't think you really necessarily need examples. You just try not to be a complete pile of s— and just be there for them."
Still, Reynolds says he is reluctant to share much about his daughter's day-to-day life outside of the home.
"I find it to be really obnoxious. In fact, every time I talk about my kid in public, I'm generally talking about how average she is," he said. "I don't f—ing fall victim to it, because, especially celebrities, when they talk about their kid, they talk about their kid like they're the Chosen One, or they're the only people who have ever had a child."
But that's not to say that the actor fails to understand the unconditional love (or the amazing adoration) a prate typically has for their child.
"At home, I'm like, 'You're a genius! Oh, my God! You just took a s— in your diaper that came out as a perfect musical note!'" Reynolds admitted. "Once you have a kid, you think, like, 'I can't believe that another person did all this s— for me, that I'm doing for this person right now!' Like, that somebody woke up in the middle of the night this many times just to wipe my a—."
That realization has given him a new respect for his parents, he says.
"You start to have a great deal more respect for your parents. Not that I didn't already, but I don't now how my parents did it with four kids. Four boys! Who basically did everything short of setting their own home on fire every single day of their lives. It's gotta be pretty intense," he said.
On Father's Day Blake shared a photo of the new daddy wearing his baby girl. As sweet as he looked wearing James, Instagrammers were quick to point out he was wearing the baby wrong.
https://instagram.com/p/4MdCNJx4O1/?taken-by=blakelively
Ryan addressed the mishap during the interview saying,

"Yeah, 'Can I just make some mistakes and all of you just f* off?' Yeah. You want to be able to say that. But you can't say that. There is almost no community on Earth as intense as the parent-child online community."
Unfortunately, the baby's arrival has brought some new challenges, and forced the actor to re-think some of his relationships – namely with a friend of 25 years who tried to sell pictures of his daughter to the tabloids.
"A guy that I'd known for my whole life, one of my closest friends growing up, he had been shopping pictures of my baby around," Reynolds admitted. "I kind of got in front of it, which is good, but it was a slightly dark period. A couple of bad weeks."
Reynolds admitted to confronting the friend and having a "pretty strongly worded conversation" about his friend's actions before completely cutting him out of his life, and the life of his family.
"It was like a death. It was one of those devastating things to find out," Reynolds said of the situation. "I don't think he thought he would ever be caught. But it's a pretty narrow group of people that I would send photos like that to. They're just, like, my closest family and my closest friends: 'Here's us in the delivery room!'"
Thankfully, the initial craze has died down and the family of three is now back to focusing on what's important: enjoying their time together.
"The whole thing becomes so absurd that all you can do is laugh about it and just go, 'This isn't the real world. This isn't how real things work,'" he said. "But it happens to be happening right now. And it will pass. And it does. It passes. It all passed."
Related Articles:
---
[ad]