Essure, an implantable birth control device, has been around for 13 years. Comprised of two tiny, metallic coils, it is meant to be an alternative to a tubal ligation. Inserted into the fallopian tubes, it comes with a hefty number of possible side effects, including short-term pain and bleeding after implantation, movement of the device into the lower abdomen or pelvis, and allergic reactions that can cause hives or itching. But since hitting the market, there have been women complaining of non-listed side effects from the device.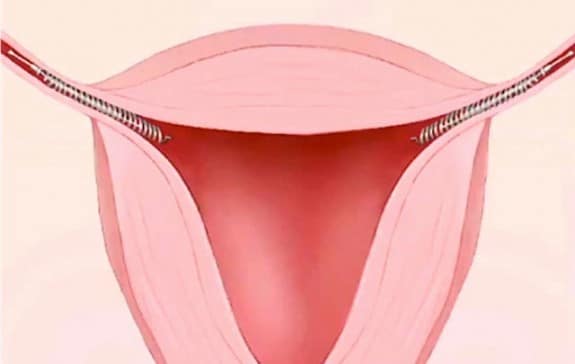 Thousands of women who have received the implant have complained of problems like chronic pain, fatigue, weight gain, depression, and headaches. Most of those complaints have been shared though social media, including a Facebook page called "Essure Problems." Currently, that page has over 20,000 members. The FDA also uncovered another 20,000 mentions regarding Essure problems on other social media outlets; most of which were found on Twitter.
The FDA has already started responding to concerns from women who have called the agency, asking that the device be pulled from the market. They plan investigate those claims and determine what, if anything, should be done about them by asking a panel of experts to weigh in on the potential safety issues and complaints being received at the agency, and online.
Kim Hudak, 43, helps to manage the Facebook page. She had her device removed in 2013 after years of suffering with pain, fatigue, and other symptoms that she associates with the implant. She is hoping that the FDA meeting will be the first step in pulling Essure from the market.
"I am hopeful that at least the doctors on the panel will listen with an open mind and hear what's being said because there's a lot of very damaged women out there," Hudak told CBS News.
However, the FDA is saying that they do not plan to ask the panel if Essure should be removed from the market. Instead, they are planning to determine whether or not the use of the device should be restricted to certain women or if Bayer, the maker of Essure, should conduct more studies on the device. At this time, the studies found paint a murky picture when it comes to the safety of Essure, with problems like chronic bleeding and nickel allergies seemingly rare, but the FDA says that there are "significant limitations" that must be taken into account in their review of the data.
Still, the German manufacturer says that the warning label is already sufficient enough of a warning, and that the risks outlined are based upon company research. They released a statement to CBS News regarding the claims and the FDA investigation.
"Our hearts do go out to any woman who has experienced an adverse event with any one of our products," Edio Zampaglione, Bayer's vice president for women's health said. 'But what we are seeing in all of this is that the events are consistent with what was seen in the clinical trials."
Related Articles:
---
[ad]