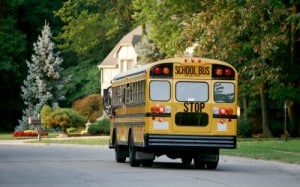 Two recent accidents involving school buses have raised concerns about the safety of school buses without seatbelts.
The first accident took place in Indianapolis, Indiana. Fifty children, ranging in age from 5 to 16, were on a Lighthouse Charter School bus when it crashed. The driver, a 60-year-old man, and five-year-old Donasty Smith died in the accident and two other students were critically injured. According to sources from ABC News, it appears that the driver hit an overpass without braking. They believe that he may have suffered a heart attack behind the wheel or been distracted while driving.
In the second accident, a school bus in Quincy, Washington rolled over after the driver overcompensated the veering bus. Drugs, alcohol and weather were not factors in the crash. The driver is still in the hospital, as is a child that was critically injured. Three other children were seriously injured but have since been released.
Other than being school bus crashes, what do these two incidents have in common? Neither of the buses had passenger seatbelts. According to the National Highway Traffic Safety Administration, larger school buses are not required by law to provide seatbelts for passengers. Each state and individual school district is allowed to make their own decisions when it comes to providing safety belts for passengers.
How can this be possible? I often wondered the same thing as a child. Apparently, the theory is based on a safety concept from the 1960's – a concept known as compartmentalization. It is a concept in which the high seat backs and narrow spaces between the seats are supposed to keep children in place. Additionally, the size of school buses comes into play.
"We feel strongly that school buses continue to be the safest way to transport students," stated NHTSA spokeswoman Lynda Tran. "They are even safer than their parents' cars."
Based on the statistics, this would seem to be true. Government statistics show that school buses transport 23 million children per day. The NHTSA says that 800 school-aged children are killed each year during normal school travelling hours. They estimate that only about 20 of those deaths are related to school buses. They also site that not all of those accidents are due to school bus crashes. Approximately 15 of those deaths are actually students that are inadvertently hit by the bus while walking.
But the American Academy of Pediatrics isn't impressed. They say that compartmentalization is an outdated concept and they want all new buses equipped with safety seatbelts.
Dr. Phyllis Agran, a pediatrician with the American Academy of Pediatrics, says that school buses are "a dinosaur with respect to occupant protection" and that seat belts in school buses "should be a no-brainer by the year 2012."
She has done her own research and she says that approximately 17,000 children per year are injured in school busses. Forty-two percent of those involve school bus crashes.
I'm not a scientist or a physicist, but the idea of children riding in a large bus without seatbelts has frightened me since I was a child. I know the cost of installing seatbelts may increase cost and that not all schools can afford new buses, but I also know that those are our children and I, for one, am not comfortable with subjecting children to a safety concept that may or may not work. I also feel that it sends children mixed messages about safety while riding in a vehicle if a seatbelts aren't required at ALL times.
Related Articles:
---
[ad]