Christine Quinn was photographed out with her husband Christian Richard and their newborn baby out in West Hollywood on Saturday, July 10th, 2021.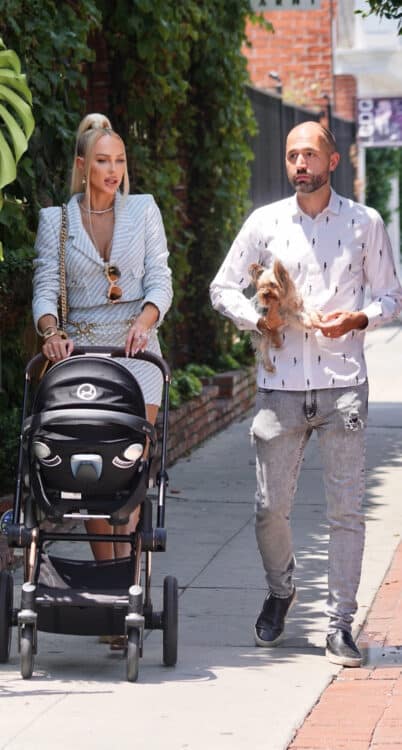 The Selling Sunset star was chic in a Chanel suit, and matching gold bag while pushing her son in a Cybex Cloud Q infant seat. She paired the car seat with the rose gold version of the Cybex Priam stroller.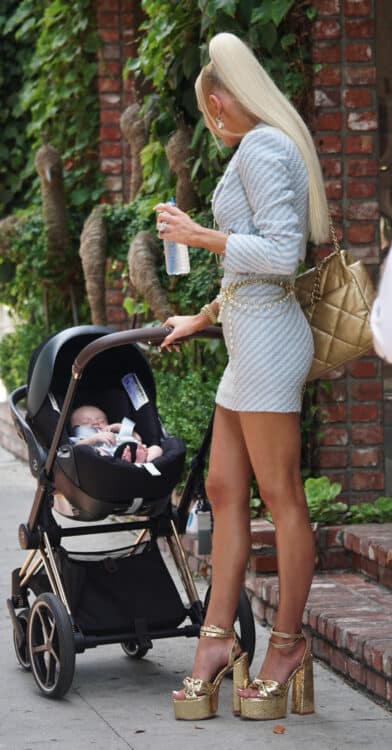 Christine shared some photos of the outing on her Instagram account.
The couple welcomed her son, Christian Georges Dumontet on May 15. She spoke to People about her baby's dramatic arrival revealing that she had been cramping for two days and didn't know. "I really thought it was normal. Then my water broke, and we had to rush to the hospital."
Adding,
"I thought we had plenty of time — the nursery's a mess, there's boxes everywhere. We just threw things in the bag. I had everything all prepared in my mind mentally. I was like, 'Great, I'm going to bring candles, and I have this smudgeless sage spray and I'm going to bring that. I have all these outfits planned and we're going to be matching. It's going to be cute. It's going to be fantastic.' But it didn't really work out that way. I just had to leave my house, wrap the towel around my waist."
"I thought I had a plan, but he was ready to come. He made a very dramatic entrance. I mean, he was definitely early, but just like his mommy, very dramatic."
The celebrity realtor planned to give birth naturally but instead need to have an emergency cesarean section.
"I was laboring for some time and the complexity of it all when I got there. I couldn't do what I wanted to do, so that's when we had to make the decision," she says. "It was definitely scary in my mind to think about having an operation, but it went great."
Thankfully Christian arrived safely.
"I think the best part of motherhood is just being responsible for this little bundle of joy that's half you and half your partner — and it's been so nice to watch my husband change and evolve; he's just so obsessed with little Baby C," Quinn said. "I feel like I have my mama bear on now."