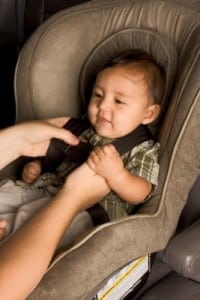 Last week we wrote about a study that found that one-third of Canadian children are strapped into their car seats incorrectly.  While looking through the stats I was surprised to read that the 2010 Survey released by Transport Canada revealed that while 95.8 per cent of child passengers are in car seats,  just 64% of them are installed properly.  Apparently that number is higher.
While out with my boys yesterday I was stopped by a police check, which I thought was looking for drivers under the influence, but was surprised when he asked if my car seats were installed properly.  When I answered yes, he asked me to pull over so he could check for himself.  After checking both seats in my truck he told me that I was the first vehicle out of 12  he had stopped that had the car seats installed properly.  The officer went on to say that one person was using a second hand car seat that was 15 years old and that other families had the seat in the car but only fastened in by a seat belt.
Drivers who fail to ensure that children in their vehicle are properly secured in a seat belt or child car seat could be charged and face a fine totalling $240 ($200 set fine, $35 victim surcharge, $5 court costs) and two demerit points, and risk injury to the child.
Wow.  That fine is more than the cost of some car seats.
I am not sure if parents just don't read the manual or if they really don't understand how to use the latch and tether connectors to install their child's seat properly.
The Ministry of Transportation says,
Infants under 9 kg (20 lb.) must be secured in a rear-facing infant car seat. Toddlers 9-18 kg (20 – 40 lb.) who are about a year old and can also pull themselves unassisted to a standing position should travel in a forward-facing child car seat secured by both a seat belt (or LATCH/UAS system) and a tether strap, attached to an anchor bolted into the vehicle's frame.
Last year while on vacation I met a couple from London who told me that retailers in England were responsible for installing all infant and child car seats purchased at their store.  Genius!  Why don't WE do this?  It would eliminate 70% of bad installs and ensure that the majority of children are safe.
Retailers would more than likely balk at having to always have a car seat technician on hand at all times, but if they are selling an item that is crucial in keeping a child safe, shouldn't they ensure that it is installed properly?  If not them then who?
To help most car seat manufacturers have online video demos and pictorials to assist with proper installs, but it seems that isn't enough.
Parents also need to be aware of car seat expiry dates.  Over time the straps get worn and stretched plus the heating and cooling of the seat can cause the plastic to weaken or to be structurally unsound.  All of these issues can prevent the seat from being effective during a crash.
The Ministry of Transportation offers lots of information on installing car seats.  Please visit their site for tips and install videos.
Related Articles:
---
[ad]