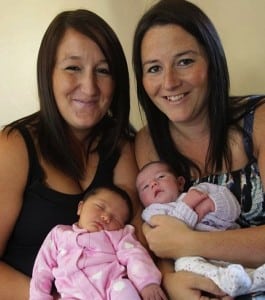 Two UK sisters, who were due to deliver days apart have given their family lots to celebrate by giving birth to two baby girls within one minute of each other, in next door rooms.
Kerry Johnston, 26, and Lee-ann Annan, 24, had been due to give birth nine days apart, when the unexpected happened – they went into labour within just 15 minutes of one another.
Lee-ann and her husband Wayne, 27, arrived at the hospital at 8am on her due date, April 29.  Ninety minutes later she was followed by elder sister Kerry, who was more than a week overdue and her fiance Callum.
After eight and a half hours of labour, Lee-ann gave birth to Bella at 11.53am, and a minute later, at 11.54, Kerry had Jessica.
Bella weighed 8lbs 3oz, while Jessica was just two ounces heavier at 8lbs 5oz.
Kerry recalled the big day saying,
'Wayne and Callum had been calling each other with updates so we knew they were already in the hospital.  We'd been in a while when the midwife told us that my sister was in the next room.  'I couldn't really believe it. You couldn't put a bet on it.
New dad Wayne is also thrilled about the whole coincidence saying,
'We couldn't believe it.

'We're all really close and spend a lot of time together – we only live five minutes apart.

'Callum first told me Kerry was pregnant when were in the supermarket. I had to laugh, because Lee-ann had only told me she was pregnant that morning.

'Even then, we never thought we'd have the babies at the same time. We thought it would probably be a couple of weeks apart.

'It was only when they both went into labour and phoned their mum Lynn to tell her that we realised the babies might have the same birthday.

'About an hour and a half after Bella and Jessica arrived, we were all in the same room together celebrating. It's absolutely brilliant.'
Baby Jessica will join Callum and Kerry's two older children: Sadie, 8, Harry, 3.  Bella joins Wayne and Lee-ann's four-year-old daughter, Lilly.
Thirty-eight years ago on May 2nd my cousin and her cousin were born 2 minutes apart in the same city.  It has always been their special day and I know that will be the same for Jessica and Bella.
---
[ad]