A six-year-old boy is lucky to be alive after he mistakenly slipped through window bars in a block of flats in China and ended up dangling by his ears – eight stories above the ground.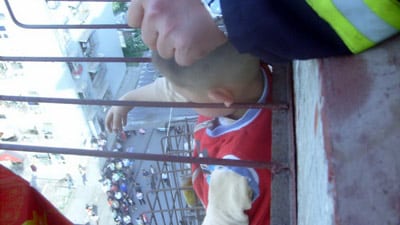 Neighbours called police after hearing the little boy's screams and he was eventually rescued by firefighters.
The incident happened after the boy's grandfather left him sleeping in the apartment while he went out to run an errand.
The boy, named Ming Ming, woke up to find himself alone and fell from the window while looking out for his grandfather.
Because he is so small, the little boy fell through the safety bars but he was saved from certain death because his head got stuck.
Fire services spokesman Wang Shen said the boy had a miraculous escape: "He could have fallen to the ground – or have been suffocated – at any minute."
Ming Ming's grandfather returned in time to let firefighters into the apartment to rescue the boy.
Hopefully, the family will install window guards so that this doesn't happen again.
Related Articles: