For 42-year-old Maureen McCarthy there was nothing extraordinary about the new twin preemies admitted in her ward as she had seen many such cases every day of her life as a nurse. But as days went by, the routine job turned into first an instinctive call to care for them and later a crusade to adopt the fragile little babies even though she was single and working.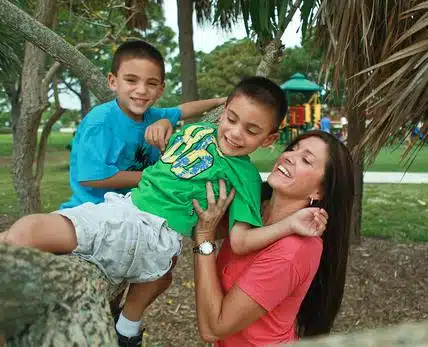 Identical twins Roberto, weighing 2 pounds, 11 ounces, and his brother, Rafael, weighing two ounces more, were admitted into the unit with much the same problems as other preemies. But what was different was that both had marijuana and cocaine in their system, a thing that immediately prompted the state of Florida to take them under its care.
"When I first saw them, they were just two more babies that we were admitting," says Maureen, "They really weren't anything special."
And even though she has been in neonatal care for 15 years, Maureen was rarely assigned to their care, being given more complicated cases that took more advantage of her experience.
But slowly and steadily as Maureen watched the two babies, the rare visits from their birth parents, and the visits of case workers, she began to think more and more of having the babies with her for the rest of her life.
"They were these perfectly beautiful little boys," she said. "They were so loving and sweet with these perfect little round faces. And they always seemed to be happy." Maureen finally made the call to the DCF social worker.
When her sister Linda first heard, she was concerned. Maureen was divorced, single, living away from her family and worked long hours in the NICU which again was a job with tremendous emotional and physical pressures.
But Maureen was determined.
She says, ""Oh, people thought I was crazy. They thought I was nuts. People were very skeptical at first. They were like, 'What are you thinking, Maureen? You're single. You work.'

I would just tell them, 'I want to do this.'?"
With friends and family's support, Maureen began her adoption battle. After three months in the NICU, the twins were transferred to medical foster care and she thought she wasn't going to see them again, but miraculously the DCF social worker called her to see if she was still interested in taking care of the babies after six weeks when they were being transferred to regular foster care.
Maureen immediately applied for foster care licensing and in three months, the twin brothers came to live with her.
Meanwhile, the birth parents also had their options open after the state gave them time to clean up. As Maureen went through the usual baby time memories of a parent, waiting to hear them say mama, taking them to the pediatrician, playing, reading books, etc. with them, at heart she knew they were still not completely hers.
"I never thought for a second that these children would be mine," she said. "I couldn't do that to myself."
The emotional turmoil intensified when the parents attempted to gain custody after the state didn't file for separation until almost 30 months after they were born. During this time, they missed appointments, tested positive for drugs, and then they'd show progress making it difficult for the State and Maureen. Eventually, when the parents left Florida and looked at their pattern, the state petitioned for the termination in 2008.
Finally, Rafael, Roberto, and Maureen became a family on the boys' third birthday giving a happy ending to a mother's gruesome battle of wishing to call two boys her own sons.
– Atula, Staff Writer
Related Articles: