Modern family gear company Stokke® has announced their newest addition to their newborn collection. The Bounce 'n' Sleep is a unique, new, flexible daybed and bouncer concept that changes function depending on your baby's needs.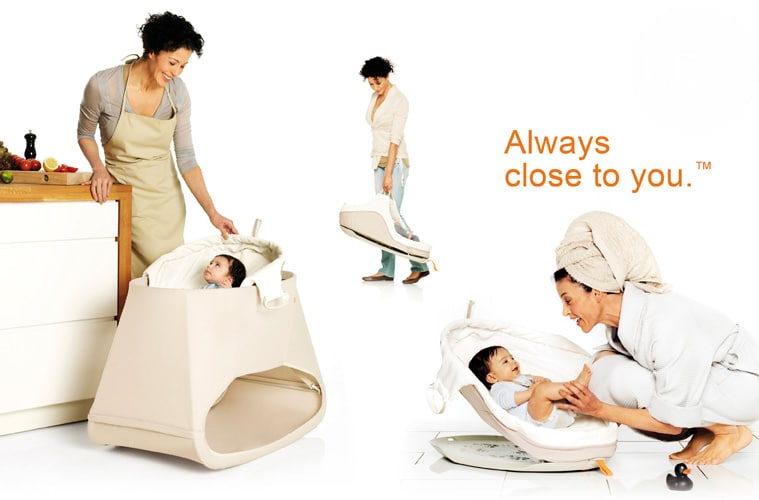 Whether your baby is asleep, playful, hungry or ready for a nap, use the new Stokke® Bounce 'n' Sleep to suit your baby's mood. The concept gives your baby the comfort and security of being close to you at all times.

Use the comfy bouncer to play with your child whilst awake. When its time for a snooze, simply recline the bouncer to its sleep position without having to disturb your baby. The bouncer has a built in mattress which transfers easily into the daybed. A calm, stress free day for your baby and you.

The bouncer sits at a 30° seating angle (perfect for Reflux babies) and features soft carry handles for easy transportation around your home. It is lined with washable textiles and a soft cocooning liner to embrace your sleeping baby and has a flat recline function to ensure a healthy sleeping position and a seamless transition from awake to sleep. An easy to use 5-point safety harness while keep your little one safe, while the soft natural bounce motion and toy hanger for that favourite toy will keep them entertained.
Suitable from birth to around 6 months, the daybed can be used with the bouncer in active, 30° position and flat resting position. It features a stylish design, washable fabrics inside and out and mesh inner textile and perforated base to allow optimum air circulation. It is also easy to transport around your home and can rock softly to encourage restful sleep.

Look for it to be available Europe/Asia in June 2011 & US/Canada in September 2011
Related Articles: