Each year in the United States, more than 450,000 babies are born prematurely. It is the leading cause of infant death, and those that survive face an increased risk for a number of health complications, including breathing problems, cerebral palsy, developmental disabilities, vision problems, and more. It is a serious health problem that costs more than $26 billion to treat annually.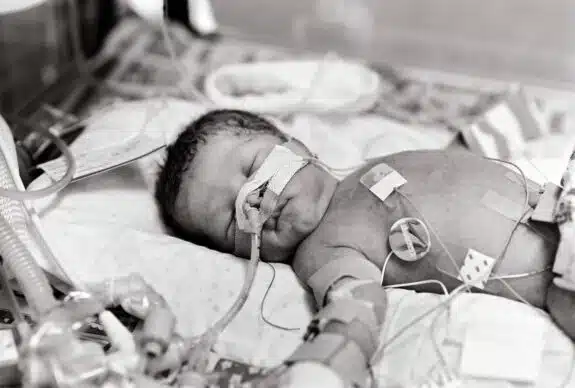 For quite some time, we've simply assumed that premature birth had something to do with the mother—maybe genetics, maybe the placenta, maybe other health complications. While, in some cases, that may be correct, researchers now believe that some preemie births, particularly those that are extremely premature, may be the result of a genetic issue with the baby, not the mother.
This information comes after Joseph R. Biggio, MD, of the University of Alabama at Birmingham, and his colleagues analyzed the number of copies of certain genes in the saliva or blood of hundreds of babies and their mothers. No link was found in the copies of the mother's genes and the chances that her baby was born preterm. But when comparing genes of babies (those born prematurely compared to those born full-term) researchers found a two- to eleven-fold increase in preterm birth before 34 weeks gestation in those that had any one of four genes duplicated or seven genes deleted.
"These findings may help explain what triggers early labor in some women, even when they've done everything right during pregnancy and there's no obvious cause for an early birth," March of Dimes Chief Medical Officer, Edward R.B. McCabe, MD, MPH, told PR Newswire. "The hope is that this finding may one day lead to a screening test to help identify which babies are at a higher risk of an early birth."
While the risks for all preterm infants are the same, the study focused on those born very premature (34 weeks or sooner) because it is this group of preterm infants that have seen very little improvement over the years. It is these infants in which the genes were examined. Genes that, according to Dr. Biggio, may not have been what actually caused the preterm births of the infant studies but may somehow put a baby at a higher risk for infection or reaction to other harmful environmental factors that do cause/trigger early labor and delivery.
This may also help to explain why, when using progesterone to prevent preterm labor, it is only successful in about one-third of all women treated.
"We always thought we were treating the mother with progesterone, but perhaps we were actually treating the baby," Dr. Biggio told PR Newswire.
His research is being honored by the March of Dimes, the leading nonprofit organization for pregnancy and baby health, and he and Dr. McCabe were presented with the March of Dimes award for Best Abstract in Prematurity at the SMFM's Annual Meeting.
Related Articles: