The findings on this subject go back and forth. Last October The Medical Research Council and University of Edinburgh conducted a study and found that: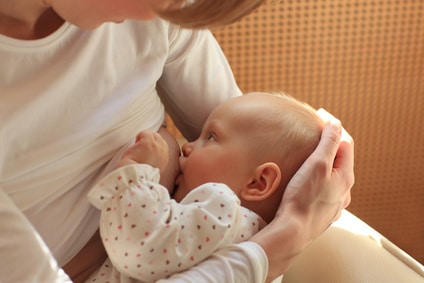 Breastfed babies are smarter because their mothers are clever in the first place, not because of any advantage of breastfeeding itself.
Today, a study was published that looked at 3,000 children in the US and UK.
It found that breast fed babies who shared the genetic variant outscored bottle-fed peers in intelligence tests, researchers said. The variant to the FADS2 gene, involved in processing fatty acids, is found in about 90 percent of people, they added.

"For 100 years, the intelligence quotient has been at the heart of scientific and public debates about nature versus nurture," Terrie Moffitt of Kings College London and colleagues wrote in their report, published on Monday in the Proceedings of the National Academy of Sciences.

"Evidence that nature and nurture work together drives a nail in the coffin of the nature-versus-nurture debate."
Some other advantages for breast fed children include reducing infections, respiratory illnesses and diarrhea, earlier research has shown. A study presented at an American Heart Association meeting earlier this week added healthier blood cholesterol levels to that list.
Although scientists have been looking at potential links between breast-feeding and intelligence for decades, the direct relationship has not always been clear.

The researchers studied the FADS2 gene involved in processing omega 3 fatty acids found in foods such as salmon, nuts and avocados and turning them into nutrients for the brain.

In both countries, breast-fed children had a higher IQ by about 6 to 7 points, but only if they had a variant that made the gene more efficiently process fatty acids.
Related Articles:
Choosing A Breast Pump
Benefits Of Initiating Breastfeeding Within The First Hour After Birth
Study: Breast Feeding Doesn't Cause Saggy Breasts
Breastmilk For Sale: Would You Buy?
---