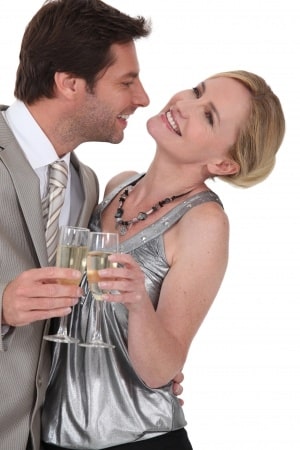 With Thanksgiving behind us and Christmas just around the corner, many of us are already in full holiday swing. We're prepping meal plans, shopping for gifts, organizing holiday itineraries, ordering wine, grocery shopping, wrapping, cooking, baking and more. According to a recent study, it's all that hustle and bustle (along with some other factors) that half of all women are at risk for a hidden holiday consequence – one that may lead to extra pounds and conflict with the in-laws, just not in the way you might think.
LloydsPharmacy Online Doctor, an online pharmacy, says that they see a huge surge (32 percent) in online sales of online contraception services over the holiday season; they conducted an interview of 2,000 women to find out why.
"We often see peaks in our contraceptive services after the weekend but during November and December as the party season gets underway, there is a clear and significant uplift in orders," Dr. Tom Brett, Medical Director for LloydsPharmacy Online revealed
Through their survey, researchers found that a total of 51 percent of women forgot to take their regular contraceptive pill over the holidays, had to get the morning after pill, or experienced an unplanned pregnancy over the holiday season. In fact, 13 percent of the women surveyed admitted to taking the morning after pill over Christmas and one in 14 said they needed it after their office Christmas party.
So why do so many women end up being at risk for an unwanted pregnancy? Researchers say it's a combination of issues that range from drunken partying to hectic schedules.
Of the women surveyed, one in six said they forgot to take their pill because they were drunk. Another one in seven stated they'd forgotten to take their pill because they'd been too distracted by the hustle and bustle of Christmas. A total of 28 percent said they forgot to take their pills because they hadn't packed them while traveling out-of-town.
Forgetting wasn't the only issue with taking birth control regularly. One in six reported forgetting because they'd struggled with acquiring a new prescription, and one in three said they found it hard to get an appointment with a nurse or doctor in December. For these last two issues, Dr. Brett says there is a remedy.
"The combination of an increased need for contraceptive services with reduced hours at the local GP surgeries over the festive holiday period can leave some women wondering where to go as many might not be aware that it is possible to seek this sort of help online," Dr. Brett told Daily Mail UK.
Unfortunately, the only solution for other contraceptive issues is to either A) find a system that will help you better remember your pill, even if you've been drinking or B) consider an IUD, which would eliminate the need to remember a pill.
Related Articles:
---
[ad]