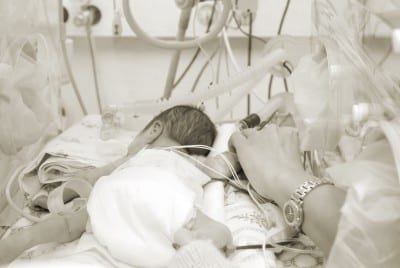 For parents of babies born before the 26th week of pregnancy, there are more reasons to be extremely careful and alert of the development stages of your child as researchers in UK have suggested that the babies have much higher than average risk of developing Autism later on in childhood.
Researchers, led by Dr. Neil Marlow of University College London studied a group of children born in 1995 in UK and Ireland.
They found of the 219 children who were born before the 26th week, 8 percent of the kids showing Autism Spectrum Disorder (ASD) by age 11. This percent was very high when compared to a group of 153 kids who were of the same age but were born full term and none of whom showed any signs of ASD.
ASD is actually a group of development disorders which range from classic autism to Asperger's syndrome and may hinder the child's ability to communicate and build relationships.
It was known earlier that preterm babies may have autistic problems but the latest study also points to the children who will be most affected. "The study shows an increased frequency of ASD, but it is mainly among children with other disabilities, the risk of it developing in children with no other problems is very low," explained Dr. Marlow.
It became clear from the study that children who showed certain impairments in learning and thinking at age 6 showed ASD symptoms by age 11.
"We know that very preterm babies' brains develop differently to those of full-term babies after birth, and that this is associated with a high frequency of cognitive problems in childhood," said Dr. Marlow. He advised parents of micro preemies to be alert and seek advice from a professional when they observe cognitive problems with their child.
The doctor is now conducting a research on babies born in 2006 to see if advance medical care has helped these miraculous babies in fighting the autism syndromes. – Atula, Staff Writer
---