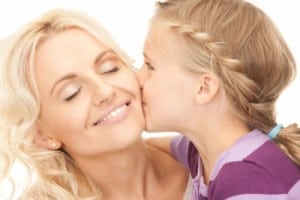 Although some mothers may find it astonishing, a recent survey revealed that the majority of Canadian girls see them as major female role models.
Sharon MacLeod, director of the survey sponsor, Dove Canada, said
"It can put pressure on moms, but it can also be quite relieving. I think moms sometimes feel like they don't have as much power as they do."
The telephone survey, which included more than thousand girls, between the ages of 10 and 17 residents, from six different countries found that almost 60% of Canadian girls considered their mothers their major female role model. Female friends and sisters came next, at 13% and 12%, respectively. Seven percent of the Canadian girls answered that other female family members were their main role models.
Shari Graydon, a Canadian media watchdog said,
"It's useful reinforcement for women to know they have this kind of power and influence.  I suspect most mothers — who in their day-to-day parenting are throwing up their hands at the kind of influence the media has — probably don't appreciate how much their daughters look up to them."
International findings showed that while musicians and actresses had significantly more influence with girls in other countries,  mothers still came out on top with 54 per cent worldwide versus 59 per cent in Canada.
The results of this survey were a little surprising to some. One mother even said
"I did wonder if the girls were saying that just to be polite."
She did, however, go on to say
"But obviously a mother's influence is huge, from birth onward."
This statement is most likely much more true than many mothers may believe. While young girls may be influenced by famous females, dressing or talking like them, it is the mothers that ultimately guide them into adulthood. – Christina, Staff Writer
Related Articles:
---
[ad]