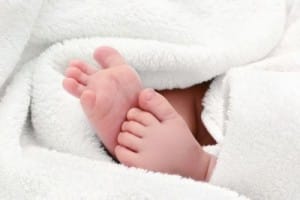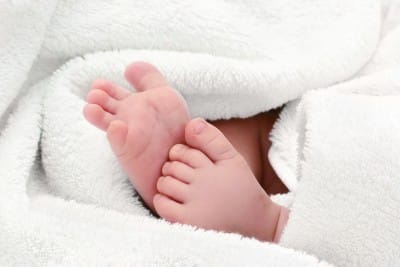 Swaddling isn't a new trend. In fact, it is one of the longest-standing methods for making a baby feel safe, comfortable and warm. But over the years, doctors have learned something very important about swaddling, and it's something that every new parent should know.
Dr. Ryan Muchow, a pediatric orthopedic surgeon at Shriners Hospitals for Children in Lexington says that swaddling can cause a relatively rare, easily preventable but serious problem for children. When swaddled too tightly, the balls of a baby's hips can come out of socket. This condition, known as hip dysplasia, has few symptoms early on. In fact, no signs may be noted until walking starts.
"It's a silent disorder,"Muchow told Kentucky.com. "That's just the nature of the disease."
It is estimated that approximately two or three children out of 1,000 will develop hip dysplasia. Symptoms could include limping or walking on the toes of one foot, or waddling if both hips are affected. Again, these symptoms aren't noticeable until baby starts walking.
If parents are concerned about their former swaddling practices or have started to notice any symptoms, they can talk to their pediatrician or family doctor. For children under 4 months of age, an ultrasound can be done to see if any hip damage has been done. For children 4 months or older, an x-ray would need to be done to determine if hip dysplasia has occurred.
To get the word out about hip dysplasia dangers, doctors at Shriners are now reinforcing "healthy swaddling" that has been recommended by several national pediatric organizations, including the American Academy of Pediatrics. In this type of swaddling, baby is secured at the shoulders, but the legs are unrestricted. This type of swaddling allows more natural movement of the legs while still offering baby a warm and cozy environment.
Parents who wish to perform "healthy swaddling" on their babies can do so by first spreading a square blanket out, placing it so it forms a diamond in front of them. Baby's head should be placed at the top of the diamond and their feet should be at the bottom. The right side of the diamond should then be folded over towards baby's left side and tucked under the arm. Repeat in the opposite direction for the left side. The bottom of the blanket should then loosely cover baby's legs so that legs can bend and move naturally. The bottom can then be loosely gathered around the bottom and tucked underneath to keep the legs warm without restricting movement.
Related Articles:
---
[ad]