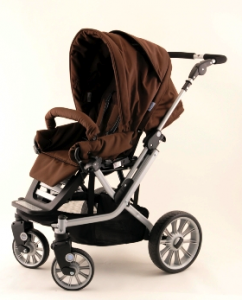 The latest stroller creating a ton of Buzz is the Teutonia.
For over 60 years, Teutonia has been making strollers and nothing but strollers, and has become a leading stroller company in Germany and one of the top sellers throughout Europe.
After becoming a part of the Newell Rubbermaid family of companies in 2007, Teutonia has branched out to cover the North American market so look for these strollers to start to hit a park near you.
What makes this stroller so great?
Unlike any other product on the market, the Teutonia stroller is FULLY customizable.
Parents will have their choice of 3 chassis', 3 seats with 9 colours, 3 floral choices, 15 accent fashions and 2 wheel types.
In short, the chances of your stroller showing up at the same mall as you would be slim to none because it is fully customized by you.
A couple things I like is the cool accessories that are available with this stroller. Northern moms will appreciate the fleece-lined t-handmuff. This cool extra will keep the driver's hands stay warm and buried in a two-sided weatherproof shell. It snaps right onto the handle of every teutonia stroller chassis, ensuring warm, dry hands for mom, dad or whoever is pushing.
Parents looking for more information can visit teutoniausa.com
---