There are definitely perks to having famous parents. One is that you get to see their movies before the rest of the world does!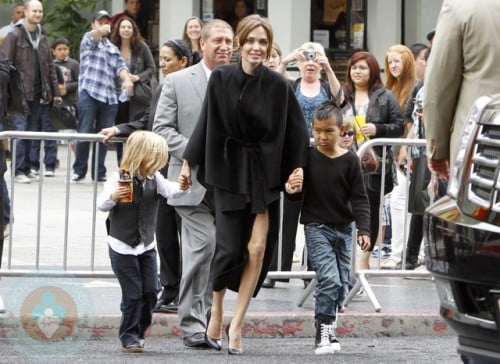 Brad Pitt and Angelina Jolie were spotted escorting their oldest 4 kids to the Premiere of Angelina's new movie – Kung-Fu Panda 2.
While the kids didn't walk the red carpet, they emerged from the theater sipping themed soda cups.
But it apparently wasn't the first time the four watched the flick. During a press event in Cannes, Angelina revealed that her kids had already seen the previewed the movie.
"The kids loved it! They laughed out loud hysterical."

Good thing, because the film "deals with family and adoption," she said, and she worried that her brood of biological and adopted kids might be bothered by "such a heavy issue."

Added the mom: "We talk very openly in our house. 'Orphanage' and 'birth parents' are happy words in our house."
---
{FAME}
---
[ad]