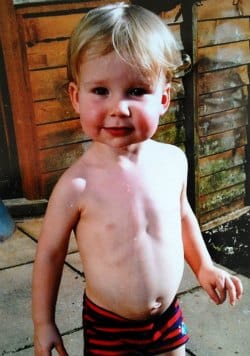 Just a little less than two months ago, Joshua Wakeham was looking out his bedroom window after his mother put him to bed. It would be the very last thing that this "active and inquisitive" little boy would do. It would be the very last night that his mother would tuck him into bed. And while his death was nothing short of a horrific accident, his mother may forever play out the events that occurred that night, thinking that if she had just known then what she knows now, she might have been able to save her son.
Little Joshua was strangled by a roller cord blind; the very same roller cord blinds that parents have been cautioned about for more than a decade. These hazardous strings have caused 22 deaths since 1999 and 3 in the UK over the last year. It is a tragedy that no parent should have to face but it is a tragedy that is very real and very dangerous.
In most of the documented deaths, the children were either put to bed for the night or left alone for just minutes. Strangulation of a child happens very quickly. It cannot be undone. Time cannot reverse. Joshua's parents, Tracey and Tim, are sharing their experience, despite their pain, hoping that it will help save another child.
"There was a blackout blind on the window which was there when we moved in," stated Tracey, 34. "He loved to wave to people and I never saw him play with the string on the blind. I put him to bed that night with his toys and turned on the nightlight to let him settle."
Tracey, who was described as a loving and caring mother, went back to check on her son around 9 p.m. What she found didn't even register at first.
"I could see he was stood up and it looked like he was looking out of the window," she recalled. I then saw that the cord was around his neck. When I touched him he felt cold. I dialed 999 and they gave me instructions to give him mouth-to-mouth. I tried, I really tried. But he was cold."
Emergency personnel and coroner David Bowen conquered that Joshua's death was nothing more than a tragic accident.
"Joshua was a normal, active, healthy, inquisitive child who liked nothing better than standing at his bedroom window waving at members of the public as they walked past," stated Mr. Bowen. "He would stand in the window whether it was day or night. He became entangled in the cord and would have recognized the danger – he was much too young to release himself. The verdict in this tragic case, therefore, is accidental death."
This tragic death has prompted the coroner to issue a warming about window blind cords and children:
"It is not reasonable for any parent to monitor their children 24 hours a day, but I hope this tragedy will serve as a warning to all parents," stated Mr. Bowen. "Potential hazards should be put out of reach of children."
The type of cord responsible for most of the recent deaths is a looped blind cord. They have been banned in many countries. However, they still exist in many homes, especially in the UK where no such ban exists.
Paul Flynn, the family's MP has made a motion in the House of Commons to try and change all of that. He hopes to start a government initiative to educate parents on the dangers of the loop cords and find a way to stop any more from being manufactured.
"The case is heartbreaking. The industry should bring out safer cords," stated Flynn. "There's new regulations coming in from Europe within a year, but there will still be a problem with existing cords. We are asking the government to start a campaign to make sure everyone knows of the dangers."
Parents should be aware, however, that even non-loop cords can present a safety hazard to children. All window blind cords should be kept out of the reach of children. If, however, you have children like mine who find a way to dislodge the cord anyway, it may be best to just remove the blind completely.
Related Articles:
---
[ad]