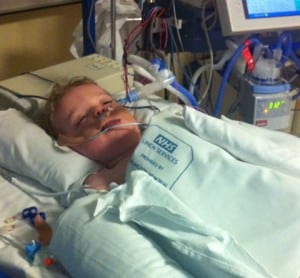 Trudy Hilary walked in on every mother's worst nightmare: her two-year-old son, Zach, collapsed, lying on the floor and groaning. He'd had a heart attack.
The quick thinking mom called emergency and started mouth-to-mouth until paramedics arrived – a total of 10 minutes. After they arrived, little Zach received more than another 20 minutes of resuscitation on his way to the hospital.
"It's just a parent's worst nightmare," Trudy said. "While I was on the phone, Zach stopped breathing. They talked me through mouth-to-mouth and chest compressions, which I did for ten minutes. The paramedics arrived and continued CPR for about five minutes in the house, then took him into the ambulance and were shocking him."
Once little Zach arrived at York Hospital, doctors administered an adrenaline shot to restart his heart. After three shots, his heart finally started beating again. But saving Zach's life wasn't the only hurdle to overcome. His heart had stopped beating for more than half an hour. He had swelling on his brain and was in a medically induced coma. Doctors were concerned that he would suffer permanent brain damage. His parents, Trudy and her husband, Dave, were told to prepare for the worst.
"It felt like an absolute lifetime waiting to find out if he would live or die," said Trudy. "The doctors told me that the prognosis was not good, that his heart had stopped beating for 39 minutes, and to prepare myself for the worst. It was just devastating."
Yet despite the bleak prognosis, Zach is now home with his parents and has the same abilities as any other two-year-old. It wasn't a miracle though. It was Zach's fighting spirit, his parents loving persistence and the help of some very wonderful doctors and therapists.
"It has been amazing to watch him recover," Trudy stated. "It has been like watching a newborn in fast motion. He has had to learn how to eat, hold a cup, walk and talk all over again, all in the past few months."
One of the paramedics that responded to Trudy's emergency call, Amy Mackintosh, says it is one of the most unusual she has ever seen.
"It's fantastic news to hear that Zach is doing so well. We are always pleased to hear of a good outcome," Amy said.
Still, no one really knows why Zach had a heart attack in the first place. Because of this, his mother has taken resuscitation courses, just in case it should happen again.
What an amazing story. I am so glad that this little guy survived and was able to make a full recovery!
Related Articles:
---