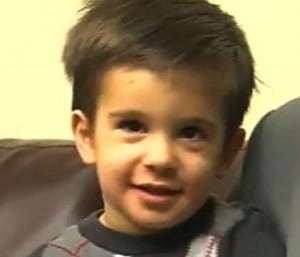 Defying odds, 3 year old Caleb Teodorescu survived, and has made full recovery from almost drowning in his backyard pool, an event that doctors believed he couldn't recover from.
It was just the day after thanksgiving when the Teodorescu's were at their home in Glendale Arizona.
Mihaela, Caleb's mom had gone to the bathroom leaving the toddler with his older siblings. She had only gone for a few minutes, but her mother's instincts knew something was not right.
"I heard them talking and laughing and all of a sudden it dawned on me, I couldn't hear his voice anymore. So I called out 'Where's Caleb?'" she explained.
Unknown to others, Caleb had slipped out of the back door and fell into the backyard pool. One of his older siblings found him in the pool and Mihaela, who is 5 months pregnant, jumped in.
A neighbor rushed to perform CPR but for 28 minutes, Caleb was unresponsive and did not have a heartbeat.
"When the emergency crew showed up, no vital signs, his heart wasn't beating and for all intents and purposes he had died," said Dr. Corey Philpot with Banner Thunderbird Medical Center. "He was, you might say teetering on the edge of life. … Caleb did not have a good chance of 100-percent recovery and we felt he would be left with some type of disability."
But his parents did not give up.
"I told the doctor the first night, I know he is going to make a full recovery," said the boy's father Ovidiu Teodorescu.

"All of us had a voice inside of us that said 'It's going to be all right, it's going to be all right, don't despair, it's going to be all right,'" added Mihaela.
Caleb was in critical condition. To prevent further brain damage, doctors even kept him in cold, hibernator state.
After four days, Caleb showed the first signs of recovery. He began twitching his legs and toes and slowly pulling the breathing tube.
Last Sunday, the toddler was released from the hospital fully recovered.
The family believes their son's life was saved because of medical miracle and also a divine one.
"They did everything that they could humanly do, but the rest was God," Caleb's father said.
The pool has now been drained and a fence is soon will be put up around it.
Related Articles:
---
[ad]