Only the best for baby? If you are looking to ensure your baby's ride is the best on the block these brands have your covered!
Designer gear collabs are one of the hottest ways for new parents to stay fashionable while transitioning into the world of parenthood. Staying in style, however, comes with a pretty sharp price tag
Here are the Top 5 most expensive baby strollers!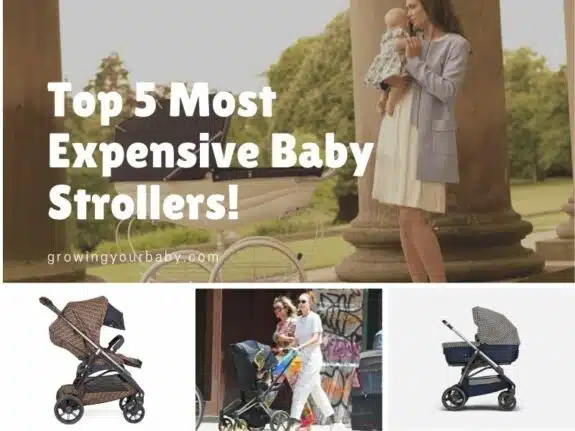 Dior x Inglesina ($7800 USD)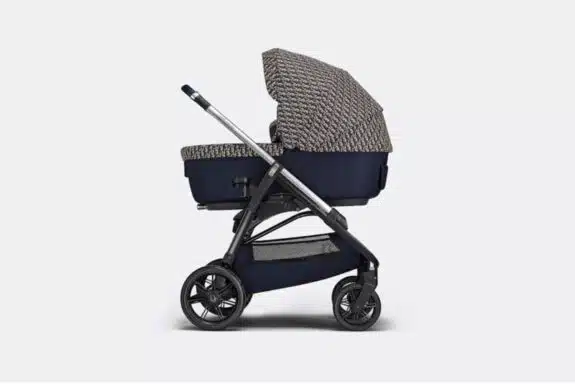 The Baby Dior collection expanded with a collaboration with the Inglesina House. The DIOR stroller features a versatile frame that can accommodate either a bassinet or stroller, making it the ideal companion for the first years of any child's growth. Dior's art of detail can be observed on the wheels and the engraved 'Dior' leather handlebar.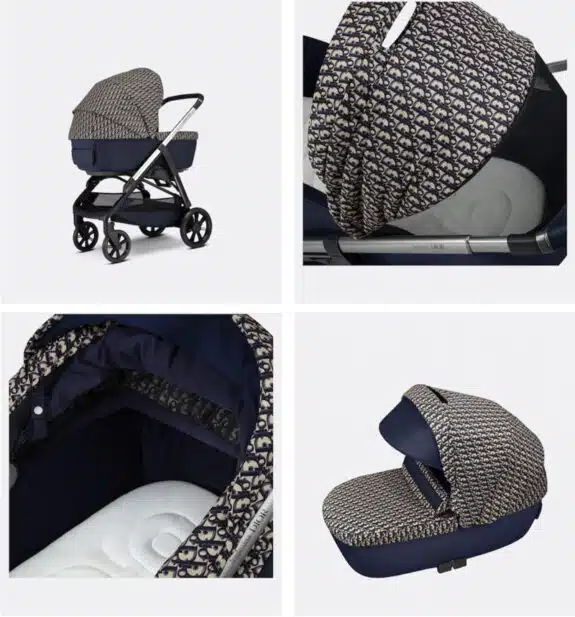 Its dimensions and 360° front wheels make it compact, maneuverable and adjustable, and it can be quickly, easily and safely folded or unfolded. The combo is embellished with Dior's signature motif for a modern design and an adjustable awning that protects from both the sun and rain. The bassinet safeguards every baby's well-being, with its innovative ventilation system and mattress made from natural bamboo fibers.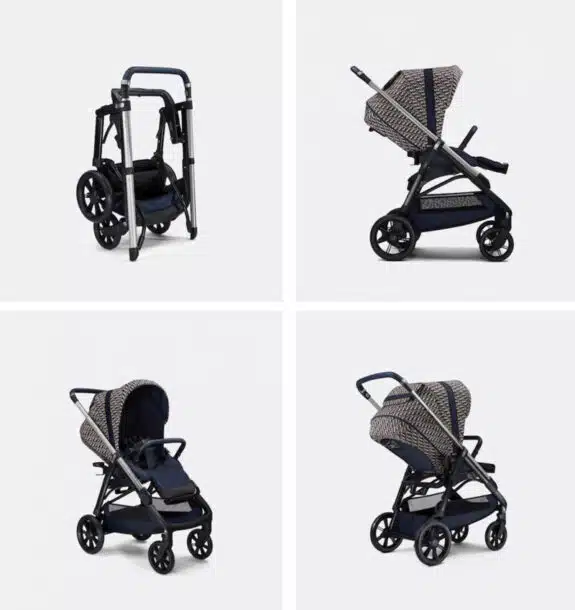 Karlie Kloss pushes one of these strollers.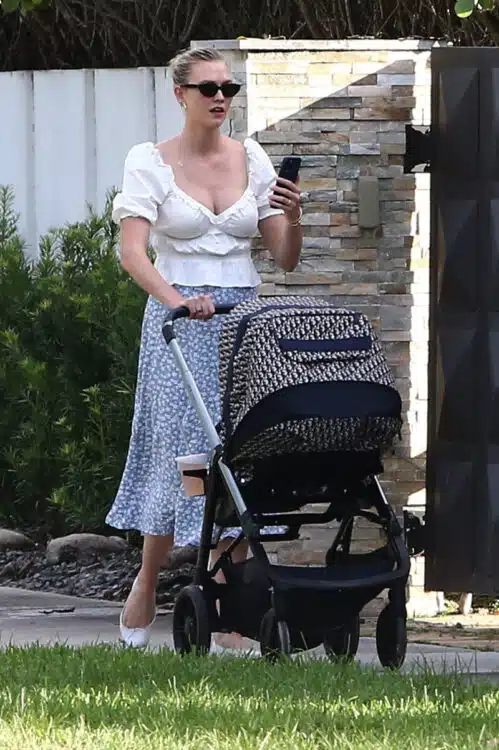 Silver Cross Balmoral Pram ($4000 USD)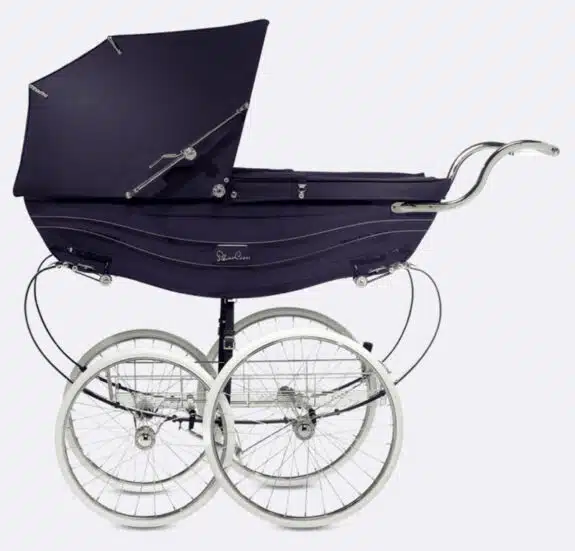 A British Icon, the Silver Cross Balmoral pram exudes luxury from every angle whilst offering your baby every comfort possible. Every Balmoral is constructed by skilled craftsmen in the heart of Yorkshire, England.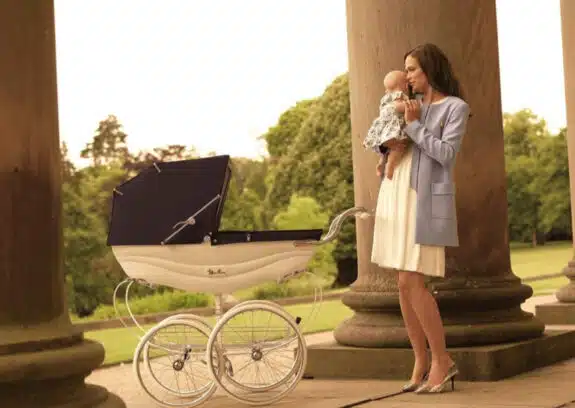 Using only the finest materials and finishes, all sourced from that very same special place in Great Britain as they have been doing for over the past 140 years. Each detail is carefully created to give that special hallmark of quality that your family will cherish for both now and generations to come.
Duchess Kate famously pushed a Balmoral Pram at Charlotte's Christening.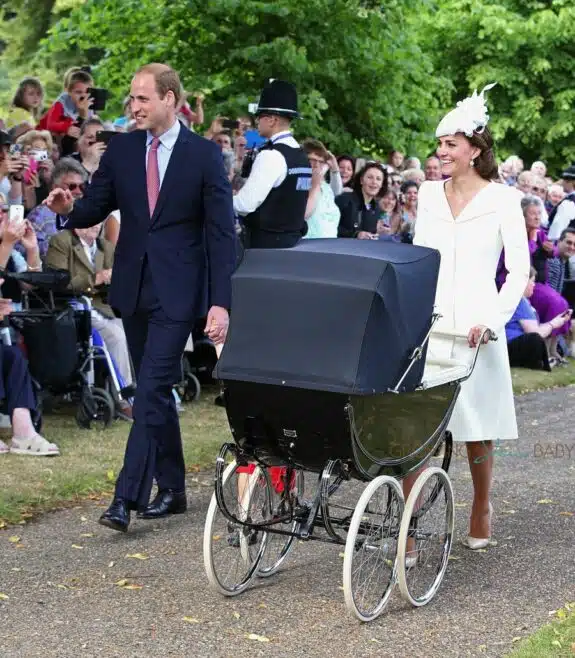 Kat Von D has a custom all-back version she used for her son when he was a newborn.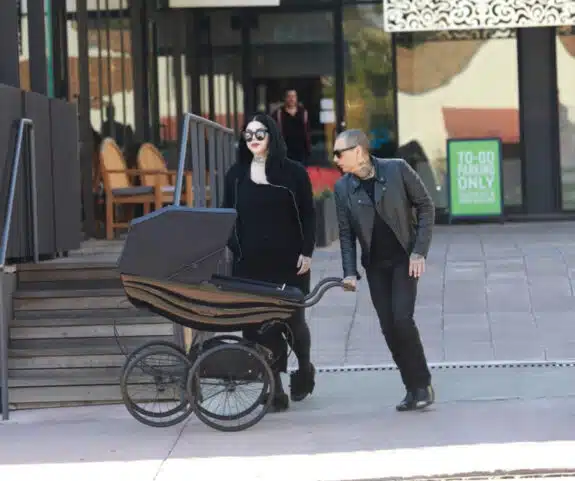 Jeremy Scott e-Priam Wings Stroller($3500USD)
To date, Jeremy Scott has collaborated with Cybex four times to create incredibly unique gear collections for fashion-forward parents. One of our favorite designs he has created is the Wings collection and now it comes in the e version.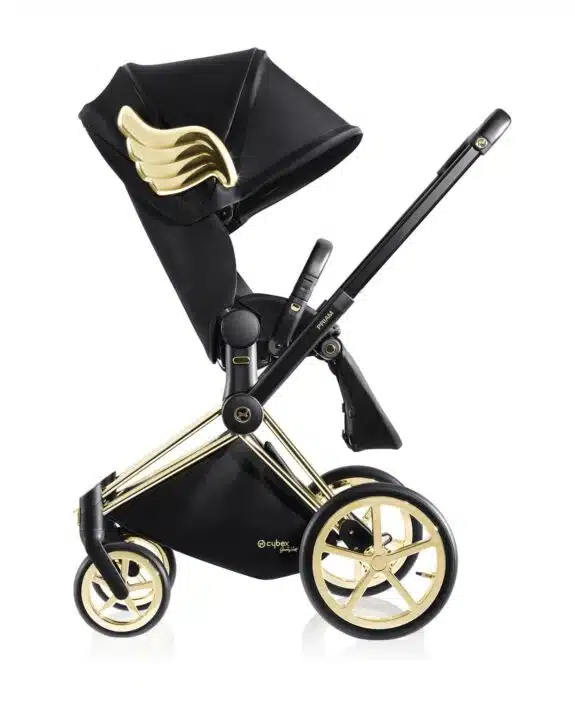 Intelligent, and intuitive, the e-Priam empowers you to glide up and down hills with ease, and smartly adapts to rough terrains like sand, gravel, or cobblestones. Experience the magical sensation of a heavy load made lighter; of a rocky path made smooth; of an impossible climb made suddenly achievable. The ePriam from the Jeremy Scott collection "Wings" is smart black with a unique gold frame, all-terrain wheels with shiny gold spokes, and, of course, the signature gold wings on the Lux Carry Cot and Lux Seat.
This is a popular celebrity stroller. Nicky Hilton and Joshua Jackson have been spotted out pushing this gorgeous stroller.
Gigi Hadid also has one!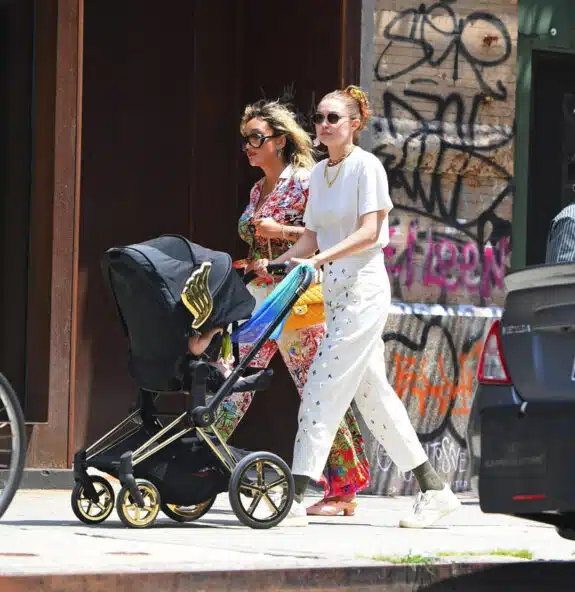 The non e version of the Priam stroller is $1800 USD
Fendi Baby FF Logo Print Stroller ($3424 USD)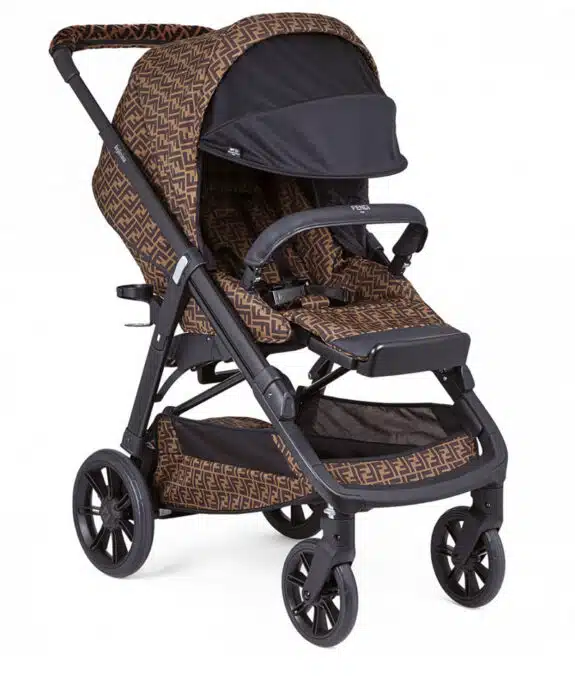 With its trademark FF logo fabric, Fendi baby's stroller can recline in 7 positions. A retractable canopy keeps the baby shaded and provides SPF50+ protection.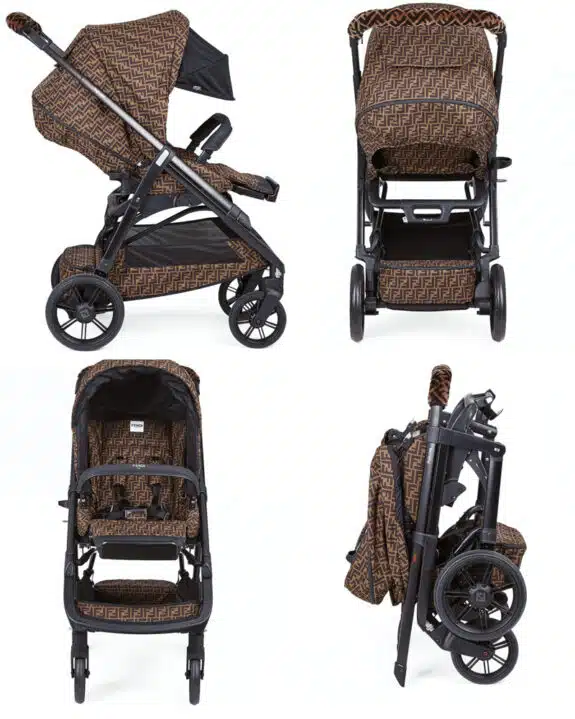 With its sleek sheepskin frame handle and generous seat, the strollers' net ventilation provides further comfort. It can be reclined into a sleeping position for nap time. Fully removable and washable, it is suitable for newborns and babies weighing up to 22kg.
Chloe Sevigny was spotted pushing her son in the Fendi stroller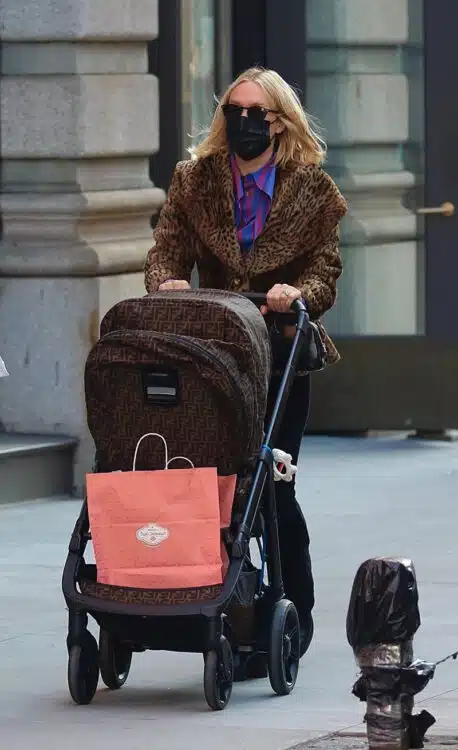 Versace Barocco Baby Stroller ($2499USD)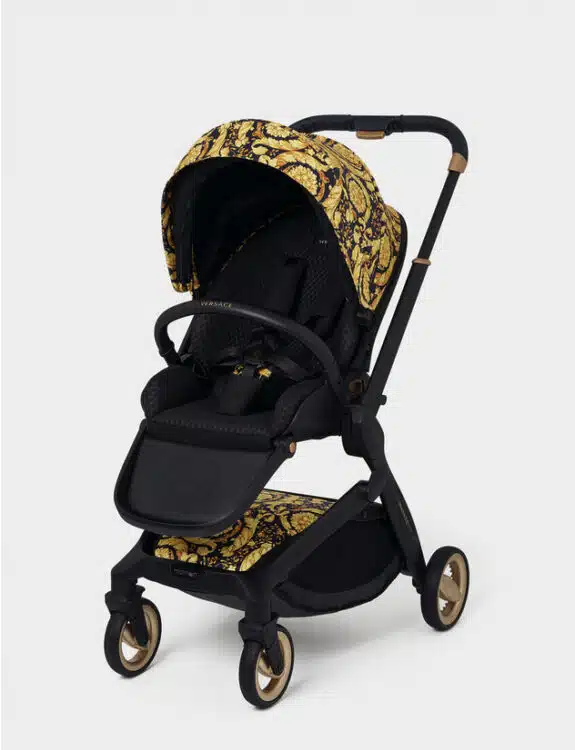 Designed for children up to 48lbs, this ultra-light stroller fuses Versace DNA with innovative technical features.
Thanks to its aluminum structure and magnesium shell, the stroller is very light and easy to handle, open and close, just with one hand. The flexible design features a reversible seat, with options of facing the parent or the street, three reclinable positions, a telescopic handle adaptable to two heights, and an adjustable footrest.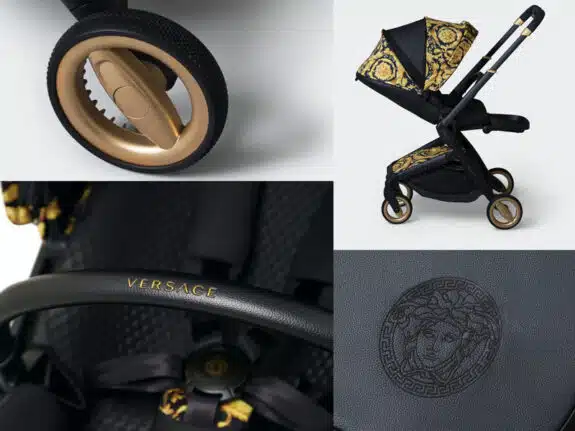 Supermodel Emily Ratajkowski recently was spotted pushing her son in the Versace stroller.