Tori Spelling had her hands full while attending The Helping Hand of Los Angeles' 84th Annual Mother's Day Luncheon and Fashion Show at The Beverly Hills Hotel on Friday.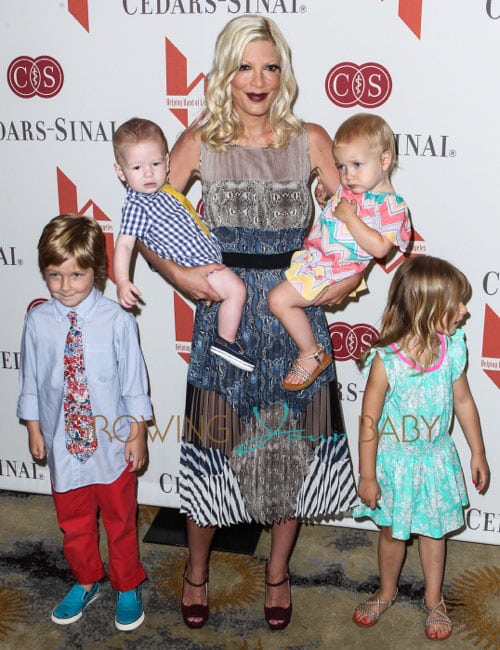 The mom-of-four was accompanied by her four children; Liam, 6, Stella, 4, Hattie, 1, and Finn, 8 months. Deserving of her Mother of The Year Award, Tori told US Magazine that she was accepting the accolade on behalf of all moms.
"I'm overwhelmed! I'm in awe! When they asked me to be Mother of the Year, at first I was like, 'I don't deserve it!' But then I thought, 'I'm going to go there and take this award on behalf of moms everywhere.' I feel like moms, we're different from other people. We support each other. We don't say, 'Who did that better?' There's no rivalry or jealousy. Moms are one the only groups you'll ever find that's a true community that bands together."
The actress also revealed that she was excited for Mother's Day.
"I'm getting a surprise!" she said. "They said they were making me something and cooking me something, so that scares me and excites me all at the same time!"
This has been a very busy year for Tori and she deserves to put her feet up and enjoy some pampering on Sunday.
---
{PACIFIC COAST NEWS, WENN}
---
[ad]