Well known for her impeccable style, Tori Spelling gives us a peek at her son Finn's nursery!  The actress/designer, who welcomed her fourth child on August 30th, called on longtime friends Bill Horn and Scout Masterson (aka: The Guncles), who run the popular baby and child products PR firm Marque Communications, for help.
Because of Tori's medical condition during her pregnancy she needed to do the room quickly on account that she may deliver prematurely – a fact the family kept private.
Tori, a home decor designer herself, oversaw every detail of the room from her LA-area hospital bed.
"In the early stages of my pregnancy I was shopping at a flea market and found an adorable vintage giraffe figurine. That was when I came up for the vision of Finn's nursery. I wanted to do a blend of vintage touches and modern regency. Dean and I have always known since Stella was born that we would have another baby boy one day and we would name him Finn. Although we didn't find out the sex of the baby I committed whole heatedly to a baby boy giraffe nursery for Finn. That very first vintage giraffe figurine I found also stayed on my bedside table in my hospital room for the 2 1/2 months I was there. It gave me hope."

"I wanted his nursery to be bright and bold pop colors so I went with turquoise and orange, " she added. "Then to add the vintage touch I added in a retro yellow."
Bill & Scout were thrilled when Tori asked them help her decorate Finn's nursery.
"When we started the project we didn't know that Finn's journey into this world would be such a dangerous and emotional one. We hope that the room's decor is a chic and calming space for our little nephew, and a reminder to Tori and Dean of what an amazing gift little Finn is."
Looking around the nursery Tori and her team have chosen some of our favorite manufacturers.  But what makes this room so special is the mix of old and new.  To create Finn's unique space the new mom used different design styles including re-finished yard and estate sale finds.
To give the room a modern feel DucDuc's "Regency" crib and "Savannah" 4 drawer changer were custom finished to suit Tori's style.
"I'm obsessed with the crib and changer by ducduc. I had never seen anything like their designs. Their pieces exude style and glamour. And I knew the Regency crib would be the perfect pinnacle of Finn's nursery."
For Finn's dresser Tori chose SPI Baby's "Beckett" dresser, the same as a pink version that sits in Hattie's nursery.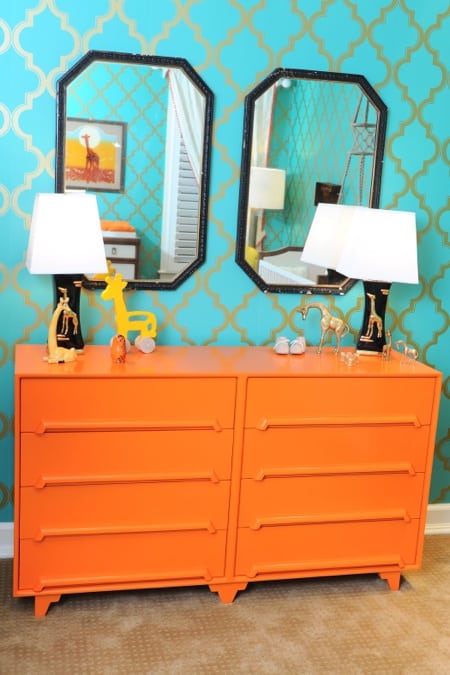 "I love their dressers. They are so chic and the orange gives that amazing color pop in the room."
The walls of Finn's nursery are covered in self-adhesive, "peel-and-stick", temporary wallpaper called Tempaper. The design ("Marrakesh Honey Jade") is the same one that the Guncles found for Dean to hang in Tori's hospital room during her 2 1/2 months stay.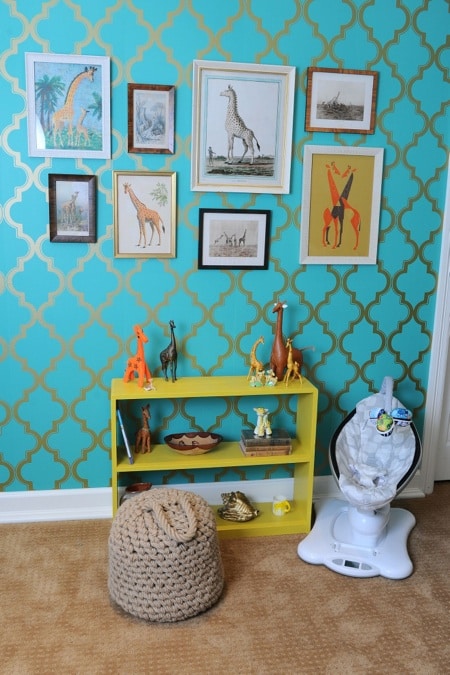 "The idea of chic yet temporary wallpaper is genius! When I learned that I would potentially be spending my entire pregnancy in a hospital room I wanted to decorate to make it feel like home and to give myself a DIY project. Nothing permanent can be on the hospital walls so the Guncles found Tempaper. Dean hung it and every day that wallpaper made me happy. It was a bright spot for me during tough times. I knew it had to be a part of Finn's nursery as it had been such a huge part of our journey together. Plus I wanted him to finally get to see it and love it as much as I had."
Tori found the vintage giraffe lamps on the dresser online, and grabbed the two side-by-side antique mirrors from her own LA-area home decor and gift boutique, InvenTORI. The 5-foot-tall stuffed giraffe was Bill and Scout's gift to baby Finn on the day he was born.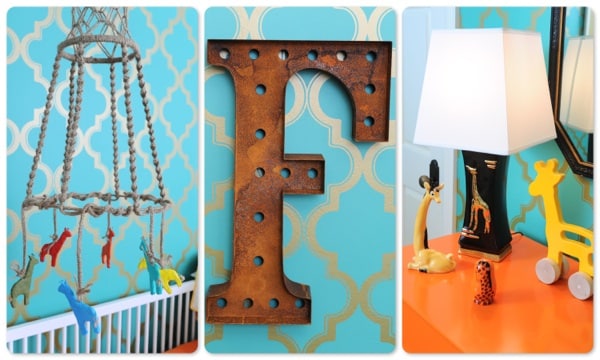 In addition, Tori and the Guncles spent many a late night trolling Etsy and eBay for all the vintage giraffe artwork and knickknacks that are now seen throughout the space.
For Finn's crib mattress and change pad Tori chose Nook Sleep System's "Pebble" mattress and matching, custom orange ChangePad.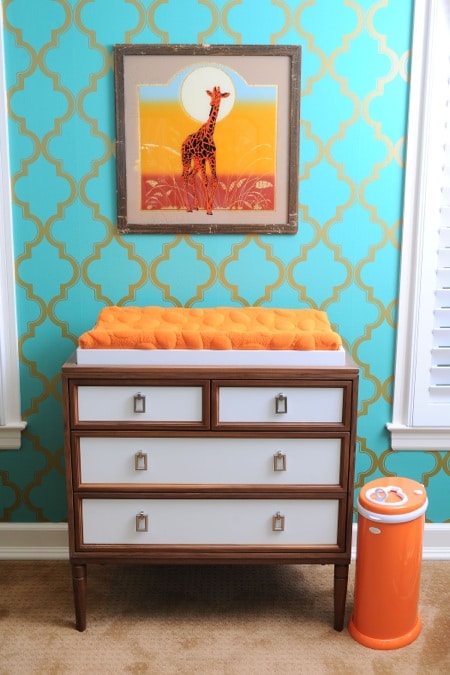 I love the matching Ubbi Diaper pail.
The 4Moms mamaRoo has also been one of Tori's favorite pieces of gear for her little ones.
"The mamaRoo has been a constant in my babies' lives. Hattie loved hers and now Finn adores his. It's so soothing for baby. A must have."
Aside from the many pieces she purchased, Tori wanted to add a few personal touches to the room.
"Finn's orange area rug were vintage placemats I found at an estate sale and made into a rug.  Finn's yellow bookshelf was an old chipped red $5 bookshelf I found at a yard sale. Liam and Stella and I sanded it and painted it yellow to match Finn's chair. The kids loved making something for the new baby's room."

"The macramé mobile with hanging paper mâché giraffes was made with a friend who taught me how to macramé. I love making things for a room. Makes it so personal."
All images taken by Michael Simon/ Startraks
---
[ad]