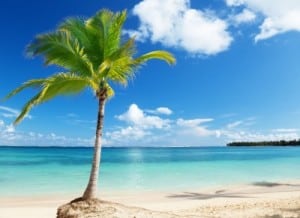 The winter blues prompt many to escape to the Caribbean for a week or two at this time of year.  How can you blame them?  Day after endless day of dull, cold, grey weather will drive you crazy after a while.  If you are planning to bring young children on your island break this winter, there are a few precautions you may want to take.
First and foremost, ensure that everyone has adequate health insurance for the trip.  You know what they say, 'if you're ready for anything, nothing will happen.'  Better safe than sorry.
Pack all necessary medications, in their original packaging.  It doesn't hurt to bring along a copy of the prescription too.
Make sure that your child's immunizations are up to date and check with your doctor to see if any additional inoculations are recommended or required for the trip.
Surf the World Health Organization's website and the website for the Centers for Disease Control.  These sites will let you know if there are any special health advisories for the region you are planning to visit.
Malaria is present throughout the Caribbean, but is more prevalent in certain regions and at certain times of year.  Anti-malarial medications may be recommended for your chosen destination.  More likely than not, you will simply be advised to protect against mosquito bites.  During the periods of dawn and dusk, use an insect repellent that is safe for your children.  Avoid spraying the repellent near the child's mucous membranes.  Instead spray the repellent on your hand and wipe it on the child's face.  Long pants and sleeves are also a good idea, at dawn and dusk.
Stick to bottled water for drinking and brushing teeth.  It is very possible that the water will not be potable in your hotel room.  The food in the restaurants, of a reputable resort, should be cleaned and prepared with purified water.  Off the resort, choose cooked foods and fruits that need to be peeled (bananas, oranges).  Anything that is raw and has been cleaned with contaminated water could be a source of disease.
As an extra layer of protection, travelers may want to take Dukoral; an oral vaccine that protects against the most common causes of travelers diarrhea.  It also protects against cholera, which has made its way from Haiti into the Dominican Republic, in isolated cases.  Children over 2-years can take Dukoral, but it doesn't protect against everything.  You still need to use common sense when deciding what you and your child are going to eat and drink.
It never hurts to consult with a doctor or a travel health nurse before you depart on a trip.  Prepare, take reasonable precautions and then stop stressing and enjoy your vacation.  You're there to relax, after all. – Jen R, Staff Writer
Related Articles:
---
[ad]