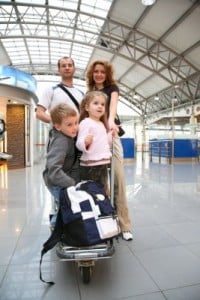 In North America, the last weeks of November and December are peak travel periods because of the American Thanksgiving and Christmas holidays. As we head into holiday prep crunch time, some families are also busy making plans to visit friends and family on different sides of the country.  And while it may be exciting to see those you haven't seen all year, it can be stressful getting there.
The team at hotels.com, along with travel smart expert and hotels.com blogger Nicole Hockin, suggests some tips for families to help make the journey with ease this holiday season. The first practical suggestion for families who will fly is to save the wrapping paper until landing.
"If you are flying to your destination, do NOT put wrapped gifts in your carry-on luggage," says Nicole, "You run the risk of having them unwrapped at the TSA checkpoint. Wrap them at your destination or have them shipped."
Let the kids pick the restaurant — No matter how young the kids are, let each member of the family make a trip decision. Parents can provide options for the kids to choose from, but this allows the entire family to have an opinion on the trip's activities.
Don't forget the details — As easy as it is to become swept away by merry excitement, it is important to research the little things prior to departure. Travelers should remember to check the weather, airline advisories, the TSA website and for overseas trips — the embassy. This allows travelers to be prepared in advance for any situation that might strike.
There's no place like home — A string or two of lights, a menorah, some tinseled garland and maybe even a little tree can morph a sterile hotel room into a home-away-from-home. Pack decorations in your suitcase or ship pre-trip. Stockings and ornaments to hang, that favorite classic movie, and cookies from Santa might just be the extra touch the room needs to ring in the holidays with decorative style.
Peak travel means airline fees — Holiday surcharges range from $10-$30 each way for travel on peak travel days, especially if the trip has not been booked yet. Beware of luggage fees and bag restrictions. Different airlines have different rules in terms of how many bags are allowed and how much they will charge. Many like USair, American Air, United, Continental charge a fee of about $25 for the first bag, while JetBlue, Delta, Air Canada, Westjet, and Southwest all include one bag per ticketed passenger.
Expect the unexpected — Whether you are driving or flying during the holidays, you want to keep a few things handy as unexpected weather, events and more travelers on the roads can sometimes wreak havoc with timetables. Extra diapers, baby wipes (which have a thousand uses), any necessary medicines for adults and children, change of clothes, snacks, phone and MP3 chargers, and surprise goodies such as activity books or cards when the "are we there yet?" starts, are all things that should be packed in a carry-on, not in a suitcase.
Finally, as hectic as traveling may become, remember the real reason for the journey, and keep the holiday joy in mind.
Related Articles:
---