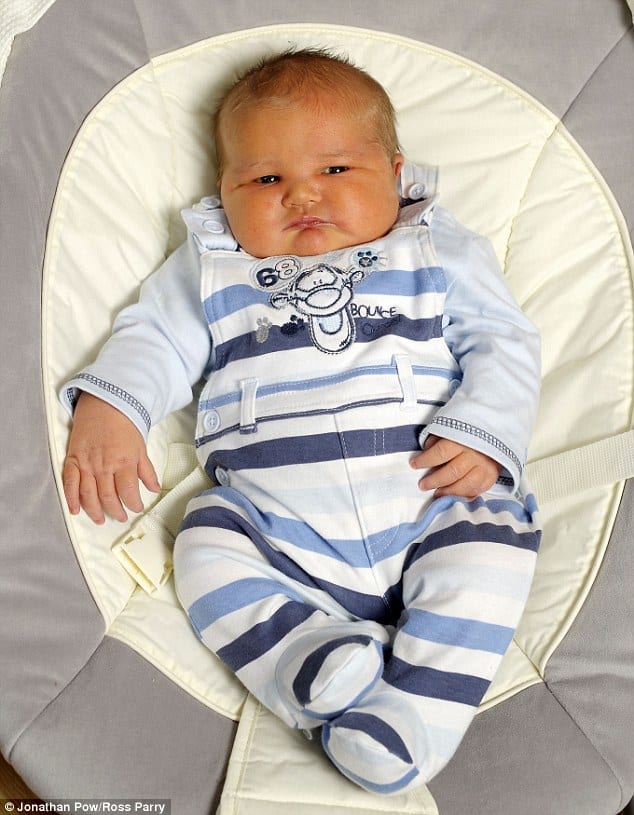 Hospital staff at a UK hospital got a bit of a surprise last week when one of their laboring moms welcomed a baby that was DOUBLE the size of the average newborn.
Sharon Needham and partner Paul Crossland won't have any use for their 0-3 or even 3-6 month clothes after their son, Harry, arrived weighing a whopping 13lbs 15ozs!
Mother of five Miss Needham, had to give birth by Caesarean section because doctors suspected the baby was too big for a normal birth.
Left conscious during the operation, only seperated by a curtain, Paul and Sharon were left speechless when the midwife handed Harry over.
She said:
'I thought they'd given me someone else's baby.
An ultrasound done the day before predicted that the baby would be about nine and a half pounds – so 4 more was a 'massive' shock.
'When we went up to the special care ward, they couldn't believe he was newborn, they thought he had been transferred to the wrong ward and should have gone to the paediatric ward,' his mom said
Medical staff calculated that she was carrying around three litres of water and her placenta weighed much heavier than normal – at 1.6kg.

Other record births:
Britain's heaviest newborn was Guy Warwick Carr, delivered in Cumbria in 1992 weighing 15lb 8oz .
The heaviest baby ever born was produced by Anna Bates of Canada in 1879, according to the Guinness Book of World Records. She weighed 23lb 12lb and died 11 hours after birth.
The record for a baby which survived is held by a boy born weighing 22lb 8oz at Aversa, Italy, in 1955.
The heaviest recent birth was a boy born last September to a woman in Northern Sumatra Indonesia at 19lb 3oz.
Related Articles:
---