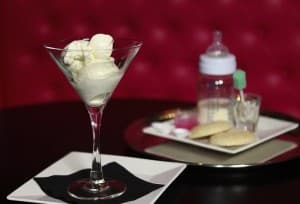 A UK shop that was offering up special ice cream made from breast milk has run into problems with the law. Local officials have confiscated the ice cream after complaints about food made from bodily fluids.
It seemed like a novel idea. Making ice cream from breast milk sold by local mothers. The special ice cream, mixed with vanilla and lemon zest, was called Baby Gaga and brought a lot of attention to the London ice cream parlor. But not everyone was happy with the treat being served up. After complaints from some outraged locals, health officials stepped in to confiscate the breast milk ice cream from the shop.
The Icecreamists say they followed all the laws in making and selling their breast milk ice cream. The milk was screened according to blood donor requirements and then pasteurized before being churned into ice cream. All health and safety precautions were taken to make sure the specialty milk was safe for human consumption.
"As far as we are aware there is no law prohibiting a business from selling breast milk ice cream," Matt O'Connor, founder of The Icecreamists, said in a statement.
Despite the issues, the Icecreamists said they had a positive response to the breast milk ice cream from the public. According to the company, the ice cream was sold out as soon as it was introduced to the public on Friday. The interesting new take on ice cream seemed to be something that many people were open to. – Summer, staff writer
Related Articles:
---