We see it all the time – women who are admitted to the hospital with 'appendicitis' and walk out with a baby. It is beyond me how someone can carry a baby to term without even knowing she is pregnant, but it happens all the time. A new case, however, takes that to the next level! An Iowa woman as admitted to the hospital last week with stomach pains, only for doctors to reveal she was expecting twins.
Last Thursday night Shelly Magnani and her fiance James Croskey went to a walk-in clinic after Shelly started experiencing sharp pains in her side. The staff at the clinic believed she was about six months pregnant, and transferred her to Mercy Hospital in Des Moines, where it was revealed that she was actually about 34 weeks pregnant — and having twins.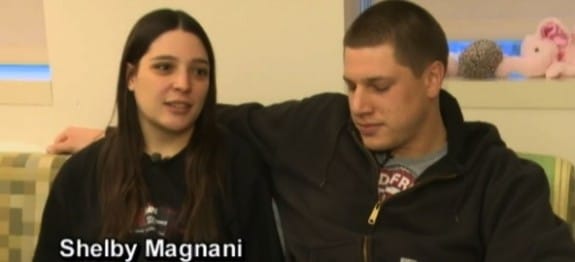 "Things just didn't change that dramatically with her physical appearance," Gregg Lagan, a spokesperson at Mercy Hospital, said.
A short time later Anna and Ava were born via c-section weighing 4 and 3 pounds each.
But what was even more interesting about the babies was that they are monoamniotic twins — a rare birth condition that doctors say happens only in about one of every 10,000 pregnancies, and just one percent of twin pregnancies.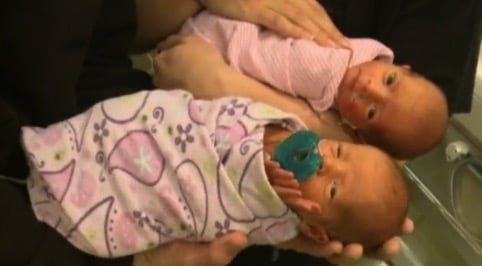 "Mono mono" twins, share one amniotic sac and one placenta in the womb. But babies growing this way need to be closely monitored for complications such as umbilical cord entanglement.
"You only have one sac and two babies in it, so they're both having to draw on the same food supply. They have to share space. And there are some cases where one of the twins may be needier than the other, and that could cause problems," Lagan said.
By some stroke of luck Anna and Ava are in good health, but are currently being monitored by the NICU just to ensure they can do everything full term babies can do like regulate their own temperature, and take all feeds independently.
Hopefully the couple can get some gear for their homecoming!
---
[ad]