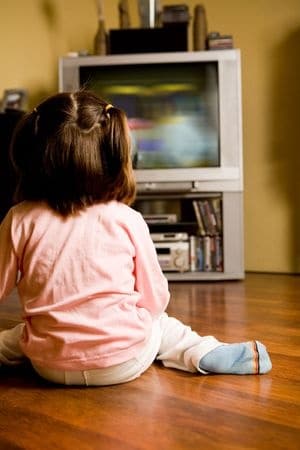 As adults, we know that unhealthy foods carry negative consequences. Getting children to understand this truth is a little more difficult, however, and unfortunately, we're not getting much support from the media. In fact, guidelines that discourage excessive advertising of unhealthy foods on television apply only to commercials; the rest are fair game.
Parents might be shocked to know just how much junk food their children are seeing positively portrayed on any given day. Case in point: a new study, published in the BMJ journal Archives in Disease in Childhood, found that almost all food and drink "cues" on television were presented by positive characters, and one out of every three instances (32.6%) of the time, those foods were portrayed in a positive light. In contrast, the foods were only portrayed negatively about one out of every five occasions (19.8%) and neutrally portrayed about half of the time (47.5%).
But what really makes these numbers so astounding is the sheer number of times unhealthy food cues are presented in television shows. In total, food and drink accounted for about 4.8% of all broadcast material, and each cue averaged about 13.2 seconds.  And out of the some 1,155 food and beverage cues recorded in the television programming sample (just under 40% of the shows coming from the US), more than 70% were for foods that contribute to obesity problems.
"Unhealthy foods, such as sweet snacks and candy, accounted for 47.5% of all food-specific placements, and sugar-sweetened beverages accounted for 25% of all beverage-specific placements," authors of the study told Medical News Today.
To make matters worse, the majority of the placements happened outside of the home, and not during a meal. Contexts for food and beverage depictions were most often social or celebratory (25.2%), with hunger or thirst pulling in at a close second (25%), yet only 2% of all the motivations were in any way related to health.
And more often than not, the placement involved "non-overweight human characters, most commonly a white adult male playing a major role within the programming plot." Essentially, this is an inaccurate depiction of what excessive consumption of junk food can and often does look like.
"Over 90% of characters were not overweight, despite consuming unhealthy products," Professor Colum Dunne, co-author and director of research at the University of Limerick's Graduate Entry Medical School in Ireland, where the study was conducted, said. "This is not a helpful or accurate portrayal of current Irish or UK populations, where overweight and obesity are prevalent and increasingly problematic."

"While there is a clear link between exposure to advertising of unhealthy foods and their consumption in young children, the impact of unhealthy food/drink content in TV programs aimed at children, is not clear," lead Professor Clodagh O' Gorman, told Medical News Today. "Eating and drinking are common activities within children-specific programming, with unhealthy foods and beverages especially common and frequently associated with positive motivating factors, and seldom seen with negative outcomes."
And the truth is, this is one of the first studies to look at programming itself. While many have focused on advertising, so few have really looked at how frequently our children are seeing unhealthy foods and drinks portrayed in their programming; an age group in which brand placements in television shows are most heavily targeted. But it doesn't just stop at television. In fact, two-thirds of all movies contain at least one food, beverage, or food retail establishment portrayal.
Unfortunately, the solution in resolving all these placements is obscure. In fact, while hundreds of food and drink corporations – everything from Burger King to PepsiCo – have signed up to an industry code designed to encourage healthier dietary choices among children, the code only governs television advertising. And even then, the code isn't compulsory.
The reality is, it really does fall back on us, as parents, to limit television viewing time – an action that has been shown to have many benefits, especially among younger children. By limiting television viewing, we are not only limiting the number of unhealthy food cues our children are seeing, we are also reducing their chance at obesity by encouraging other activities. In fact, studies have shown that children who watch more television are more likely to eat unhealthy foods, and those that have a television in their room are more likely to suffer from obesity.
Related Articles:
---
[ad]