Most over-the-counter (OTC) liquid children's medications are dosed based on either age or weight range.  While this can work if your child is in the middleweight range, it can pose the risk of overdosing a lighter child or less seriously under-dosing a heavier child, rendering the medication ineffective.  Many bottles have both categories, leaving parents confused as to how much medicine to give a sick child if the recommended amounts don't match up across the chart.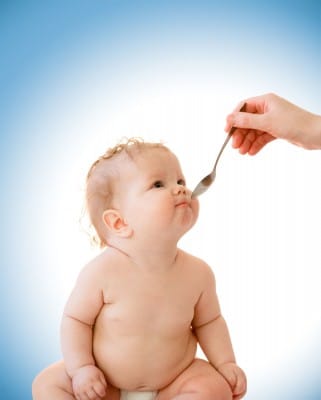 I had never really paid much attention to this with my first son because his weight always fell within the age ranges listed, so that was the dose I gave him.  My second son is a bigger boy and his weight at eight months gives him a dose of a common pediatric pain reliever we use in the two to three-year-old category – afraid to give him too much medicine for his age, I normally would give him an amount between the two doses.  Last week when he had a persistent fever that would not go away without any other symptoms, we were advised to take him to the Emergency Room (not because it was an emergency but this is how healthcare works in our area).  The triage/intake nurse weighed him, got out a couple of charts with formulas on them and proceeded to measure out an infant fever-reducing medicine for him.  She explained that sometimes all a fever needs to come down is an exact dose based on the child's weight – and sure enough, it worked.  The doctor that night said sometimes the smallest amount can make the difference in bringing a fever down or not.  They sent me home with the charts for exact dosing of acetaminophen and ibuprofen based on weights, a large list that could never fit on a medication bottle.
Coincidently the same day I noticed an internet advertisement for Accudial, a line of children's medications with a unique rotating label to ensure accurate dosing based on exact weight.  You twist the label until you find your child's weight and it matches up with the measurement you need.  Each bottle comes with a calibrated dosing spoon that takes the guesswork out of measuring.  According to the Accudial website, 72 percent of children are dosed inaccurately with OTC medications.  One way to ensure we are giving our children the exact amount is to first know our child's exact weight and then use either a chart similar to the one provided by the hospital or use a medication like Accudial with its foolproof formula.
The FDA's 10 tips when giving medicine to an infant or child:
1. Always read and follow the Drug Facts label on your OTC medicine.
2. Know the 'active ingredient' in your child's medicine.
3. Give the right medicine, in the right amount, to your child.
4. Talk to your doctor, pharmacist, or nurse to find out what mixes well and what doesn't.
5. Use the dosing tool that comes with the medicine, such as a dropper or a dosing cup.
6. Know the difference between a tablespoon and a teaspoon.
7. Know your child's weight.
8. Prevent a poison emergency by always using a child-resistant cap.
9. Store all medicines in a safe place.
10. Check the medicine three times prior to administering
In addition to these tips, I like to pre-measure a dose of medicine before bedtime when I know we may be up in the night with a sick one to prevent an error being made in dim light when I am sleepy.  Be sure to keep it up high and out of reach of pets and children.
In early May the FDA met to discuss new rules surrounding dosing devices for children's OTC medications in an effort to minimize the risk of overdose. At that time Federal health experts recommended that dosing instruction for children younger than two years should be added mandatorily to all over-the-counter products containing acetaminophens like children's Tylenol, a popular pain reliever and fever reducer used by parents.  It is great to see constant improvements in the pharmaceutical industry to help parents keep their children safe.
Related Articles: