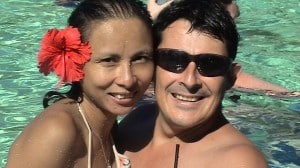 In a landmark decision, an Australian judge has given a widow the right to use her late husband's sperm for IVF.
Not long after Jocelyn and Mark Edwards were married they tried to conceive but were unsuccessful.  Even though Jocelyn is mom to a 20-year-old son from an earlier relationship and Mark to a 13-year-old son, the pair couldn't seem to conceive together.
After they discussed fertility treatment and assisted reproductive technology, they attended a clinic in early August 2010 for a consultation and testing. The couple expressed a preference for IVF and were to return on August 6 to formalize their decision and to start treatment.
Tragically Mark was fatally injured in a workplace accident on August 5th, 2010.
The next morning a judge gave an order allowing the posthumous extraction of sperm from Mr Edwards to be held at a laboratory pending the court case.
Earlier this week Justice Robert Allan Hulme, ruled that Jocelyn is entitled to the sperm recovered from the body of her late husband, Mark Edwards.
Now Jocelyn is able to go ahead with the procedure and hopefully become pregnant by her late husband.
"It's the right decision. Mark would be so happy, we're going to have our baby. That's what I plan to do," Ms Edwards told reporters outside the court.

"I just want to get past today, enjoy the moment. It's been a long, long, long, difficult time," she added.
Now, Jocelyn will have to convince a infertility clinic to impregnate her because her late husband didn't sign a written consent before he died.
Under the NSW Assisted Reproductive Technology Act, sperm cannot be used unless the donor has consented to posthumous use.
The Medical Director of IVF Australia, Peter Illingworth, said he hoped one of the clinics would be "brave" enough to fulfil Ms Edwards's wish.
"This is an exceptional case because there is such strong inferential evidence of their intent to have children," Professor Illingworth said.
Related Articles:
---
[ad]