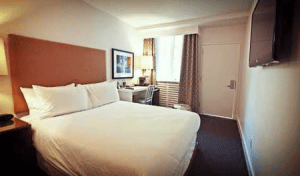 We often share stories of babies that won't wait for the hospital, but in the case of a Scottish woman who gave birth in a hotel bathroom, the reason for the odd location was a little different. Lynne Aitchison and her husband Brennan Armstrong planned their hotel room birth because Lynne couldn't get insurance.
"We really just wanted to avoid the massive bills we were going to get, if we did go to the hospital," Lynne said. "Luckily, it all went OK and I was able to cope with the pain."
But Lynne wasn't without insurance by choice. The new mom is a native Scotswoman. She had met and married Brennan during her stay in Whistler, B.C. They fell in love, and after a year, they were married. Shortly after discovering that she was pregnant, Lynne applied for her permanent residency status and submitted an application for provincial B.C. medical coverage because her travel health was expired.
Because Brennan was a Canadian native, the couple assumed that Lynne would be added to Brennan's provincial health-care plan. But as the months progressed and her due date drew nearer, they started to become concerned.
When they tried to seek medical care, she was denied coverage from the province because she didn't have a letter from the Federal Immigration Department to verify that her application was being processed or that it had even been received. So she tried to get one.
"I was constantly on the phone," Lynne said. "I tried to use our circumstances as 'please, this is an exceptional circumstance.' All I wanted was a piece of paper saying 'Yes, your case is being processed,' so I could get some health care to have my child here."
But time after time, she was told there was nothing that could be done.
"We're married. It's legitimate. She's my wife. I'm a Canadian citizen," Brennan said about the delay in medical coverage for his pregnant wife. "I didn't think this could ever happen in this country. Why isn't there some faster track for someone obviously in an emergency situation?"
So, without any medical coverage, the couple had to come up with a plan B.
"We could have gone back to Scotland," Brennan said. "Unfortunately, I can't work in Scotland. We don't have money for flights to Scotland. We are living hand to mouth here. Then, we get there – she's pregnant. She can't work, I can't work."
They couldn't afford the $10,000 medical bill for a hospital birth in B.C. either. It seemed there was only one option left.
Lynne and Brennan hired a midwife from Vancouver to help assist in the birth of their child. When Lynne went into labor, a friend drove the couple from their Whistler home to B.C. so that they could meet the midwife. Their friend then rented a room at the Burrard Inn, right across the street from the hospital. They then snuck in the back, afraid that they would be turned away if someone saw Lynne's condition.
"I was leaning against a lamppost in the back alley by the motel, waiting for our friend to get the key," Lynne said. "We went up the back elevator. My contractions were like three minutes apart at this point."
Lynne would endure several more hours of labor, all without any type of medication before she finally gave birth in the bathtub to a healthy baby boy they named Ziggy.
"Luckily, it all worked out fine," Lynne said. "The midwife wasn't even in the bathroom. Brennan caught him in the shower."
Thankfully, everything turned out fine and little Ziggy is now five-months-old. Yet, despite the positive outcome of the labor, the couple feels cheated, robbed.
"I've lived here all my life. I've worked full time since I was out of high school," Brennan said. "We were completely robbed of what should have been the best time of our life – and it's been the most stressful thing that you can imagine."
In response to the situation, citizenship and Immigration said that they have had to put cases on hold longer than expected, due to department upgrades.
"In 2010, CIC's case-processing system was upgraded, causing a disruption to case processing at our Case Processing Center in Vegreville, Alberta," the department said in an email. "Unfortunately, this temporarily resulted in longer processing times, including longer times for file creating and first stage approval. Consequently, a number of cases received in 2010 were not entered into the system until 2011."
But there may be additional reasons behind the delays, according to Vancouver immigration consultant Holly Gracey.
"We've seen, in the last year, an increase, probably by about two to four months longer processing, due to more scrutinizing and more focus on marriages of convenience," Gracey said.
The automated system can also make reaching a real person difficult, and it's pretty hard to appeal your situation to a computer.
"It used to be different. You used to be able to pick up the phone and talk to someone," Gracey said about the new automated systems. "I think they've taken that personal element out of it. These are special circumstances that need to be considered. That poor woman should have been able to get some medical help."
Related Articles:
---
[ad]