Charles Moses Martin Goodrich was born at 3:26 a.m. Jan. 11 at Marquette General Hospital. Eleven hours after giving birth, his mother Susan Goodrich, 46, died of amniotic fluid embolism – a rare obstetric emergency that is not age-related. Still in shock over his wife's death, Robbie Goodrich realized he had to figure out a way to feed his newborn son.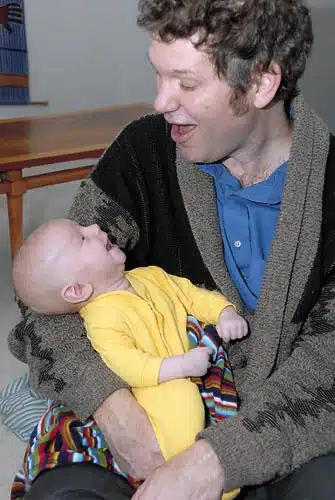 "They didn't carry any breast milk," the history professor said about the hospital, so a nurse looked into getting some for Moses. As it turned out, the nearest place to get breast milk was in Kalamazoo, and it would take several days to have it delivered to Marquette.
In the meantime, he received a phone call from family friend who was still nursing her fourth child, 1-year-old Emily. In her message, she offered Goodrich to nurse Moses.
That's when the new dad realized he wanted the baby to be nursed. It's something that his wife would have wanted.
Together with the help of a family friend, Nicoletta Fraire, Robbie made contact with Sally Keskey, founder of the Yooper Nursers – a local breast feeding support group. Within a brief time, nearly 20 women were found who offered to breast-feed Moses.
A schedule was put together with feeding times at 9 a.m., noon, 1:30 , 4 , 6:30 and 8 p.m. Six times a day a different mother has been feeding Moses for the past two months. During the night, Robbie bottle-feeds his son breast milk that was pumped by the women.
The busy dad says that having the women come to his house to nurse Moses and often bringing their own children, has been good for him.
"These are deeply caring individuals who spend time and work with me," he said. "They've all treated me with the utmost graciousness and empathy."
If he can find enough mothers willing to provide breast milk, Robbie hopes to continue nursing Moses until he is a year old.
It is amazing to me that Moses has not had nipple confusion issues. Not only does each woman have a different sized and shape nipple, but everyone breast feeds differently. How does this baby adapt to six different women a day?
The dedication of the donation moms is something that is not often found especially when all of these women probably have babies under two.
Related Articles:
PHOTOCREDIT:Andy Nelson-Zaleski VIA SOURCE
---