21
Jul
2010
by
Lisa Arneill
in
Product Review
---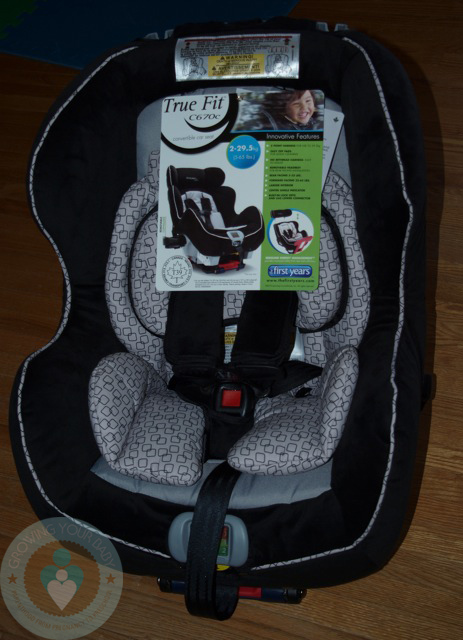 The True Fit Convertible Car Seat($199) by The First Years is the only seat you will need from birth to 65 lbs, its rear facing from 5-35 lbs and forward facing from 22-65lbs. We were excited to get our son out of his infant car seat as he had pretty much outgrown it by the time he was 9 months old. The seat has lots of plush padding to keep my son comfortable with an insert you can easily remove to wash and cushioned shoulder straps for protecting your child's neck.
Both my husband and I were pleased that the True Fit included many of the safety features that we were looking for in a Car Seat like:
energy absorbing foam and deep side wings tested to international standards for side impacts that really surround and protect your child,
the universal anchorage system (UAS) for attaching the car seat to your vehicle's seat without using the seat belt (called LATCH in the USA or ISOFIX in Europe),
the Rebound Energy Management system, featuring a flip-up rebound bar that helps manage the rebound in a crash situation,
center angle indicator to ensure you have installed your seat correctly, 35 and 45 degree angle indicators for rear facing for infants,
5 point non re-threading harness,
5 star government safety ratings especially where securing your child is concerned and ease of use and installation
Installation: The True Fit seat was easy to install in our SUV (Mazda Tribute), and took approximately 5 minutes. It was so simple, the UAS made it easy to lock the seat in place and pull tight. We kept the headrest off as our son is still under the 2.5 cm below the top of the seat, as stated in the manual and we plan to keep him rear facing for as long as we can.
After using this car seat for quite a few weeks I have noticed that it is very easy to wipe up any spit ups on the shoulder straps and seat insert. Another plus is the winged insert makes it easy to hook the shoulder straps around it before and after putting your child into the seat so you don't have to fuss with the straps every time.
---